19-year-old Kevin La was hiking with friends when the group jumped from rocks near Hermit Falls.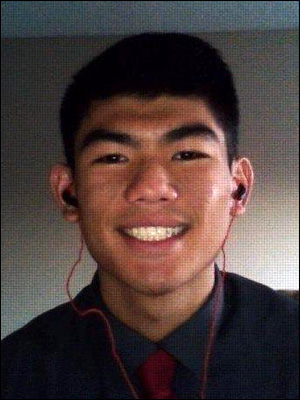 Damn. This week in Southern California, friends and loved ones are mourning a college student who died when he jumped into a rocky mountain pool with friends:
Student Dies After Jumping From Rocks Into Mountain Pool
.
19-year-old Kevin La, a student at Cal State Fullerton, was hiking with a group of friends in the Angeles National Forest when several of them decided to jump from adjacent rocks into a popular pool in the Hermit Falls area.
La was one of thirteen people who jumped into the water, but appeared to be unconscious when he came to the surface. Members of the group attempted to perform CPR on La. He was airlifted to the hospital where he was pronounced dead.
La was with 12 other students who decided to jump into a pool of water during a hike at Angeles National Forest, according to deputies from the Temple City sheriff's station. La was the sixth to jump, they said.

He hit the water then surfaced unconscious. Members of the group pulled La out and administered CPR, but the young man was declared dead when he arrived at Huntington Memorial Hospital via helicopter, deputies said.

The incident, which happened shortly after 2 p.m. Monday, is reported as an accident and an autopsy is pending, Coroner Ed Winter said.

Hermit Falls is a popular hiking destination in the Angeles National Forest. This article suggests that social media seems to be contributing to a recent increase in cliff-jumping injuries in the area:
Hermit Falls death: Social media driving increase in cliff-jumping incidents
.
Friends have set up a
Facebook page
in Kevin's memory.
More here:
Dead hiker ID'd as Kevin La, former Mark Keppel student
.