The fight was set off when the officer was called a racial slur.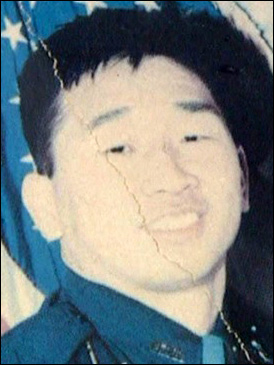 Damn. Last month in Michigan, a veteran police officer was fired for his role in an off-duty parking lot bar brawl. Bad cop behavior. Big whoop. But it might also interest you to know that the cop is of Asian descent, and the fight was set off because someone called him a racial slur:
Slur toward former officer led to fight
.
Jason Cooper, a 17-year veteran of the Belding Police Department, was dismissed after an internal investigation found he had
"violated police procedure and policies"
in an altercation at Grattan Irish Pub in Grattan Township.
The whole thing started when a patron, Ryan Pethers, was reportedly asked to leave the bar because of "unruly behavior." Cooper happened to walk out at the same time, when the two exchanged words. Things apparently got physical when Pethers called Cooper a racial slur:
The police report on the fight, provided by an unnamed source to 24 Hour News 8, says it all began in the Grattan Irish Pub on Old Belding Road in Kent County's Grattan Township.

At one table was Cooper and three other men. At another table sat Ryan Pethers. The Clarksville man was, according to the report, asked to leave the bar because of unruly behavior.

Pethers denies he was kicked out.

Either way, he just happened to walk out the same time Cooper left. That's when the trouble started.

Pethers told 24 Hour News 8 that Cooper made some remark to him he didn't understand.

"You weren't in the bar," Pethers said, who said Cooper appeared to be intoxicated.

Pethers admitted to 24 Hour News 8 he called Cooper, who is of Asian descent, a racial slur. That's when the fight started.

The incident quickly devolved into a messy fray involving Pethers' brother and pregnant girlfriend, who claims Cooper hit her in the stomach. It's unclear what exactly transpired -- there's a whole lot of claiming and denying on the part of all parties -- but Pethers' does admit he called Cooper a racial slur.
Let's be real, this guy Pethers doesn't sound like the most upstanding citizen. But maybe Cooper was behaving like a complete asshole. Maybe he was drunk off his ass. I'm just saying, you call an Asian guy something racist, you might just set him off.
Cooper's union representative says his conduct was indeed out of line, but not enough to justify the firing, especially in light of the racial prejudice against him. The union has filed a grievance against the Belding City Manager that will likely go to arbitration.
More here: Slur toward former officer led to fight.