These guys did not know who they were messing with.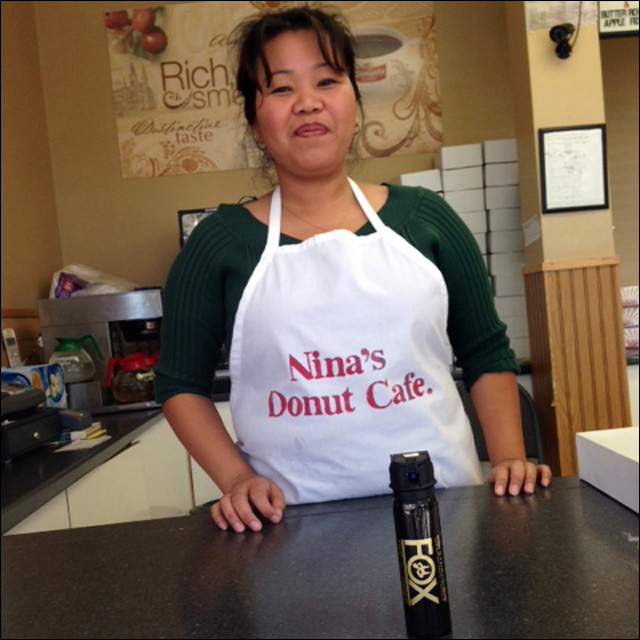 This story out Tennessee is a couple of weeks old, but hey, I thought you'd really want to know about the badass donut shop owner who fought off three armed robbers with pepper spray -- and it was all caught on tape:
Caught On Camera: Donut Shop Owner Pepper Sprays Armed Robbers
.
Earlier this month, three would-be robbers walked into Nina's Donut Cafe in Southeast Memphis and pulled a gun on owner Sohka Chin, demanding all the money in the cash register. Big fat mistake, suckas.
Instead of money, Chin gave them each a face full of hurt, courtesy of the can of pepper spray she conveniently keeps in arm's reach from the register. She got all three of the guys in the face, and they ran off crying.
The whole incident was caught on surveillance video. Here's the
news clip
:
When three robbers came barging into Chin's donut shop and pointed two guns in her face, she did what most of us wouldn't.

In the surveillance video, a car pulls up outside, then one guy comes in to Nina's Donut Café talking on a cellphone.

Chin says the crook ordered a couple of jelly-filled donuts and then his cohorts barged in.

The first pointed a gun at her while the second slipped on his way in, also pointing a gun in Chin's face.

But when the robbers asked her to pop the register, she grabbed her pepper spray right next to the machine without hesitation.

She sprayed them and they bolted, one slipping again on the way out.

Gutsy lady. At this point, two of the three men have been arrested. Timothy Dunavant and Larry Douglas were both charged with attempted aggravated robbery. Hopefully, the next time either of them come near a donut shop, they'll acutely remember the sweet sting of pepper spray in their eyes.
More here:
Failed doughnut shop robbery caught on camera
.