Judge rules hot sauce must stop production. Srirachapocalypse now.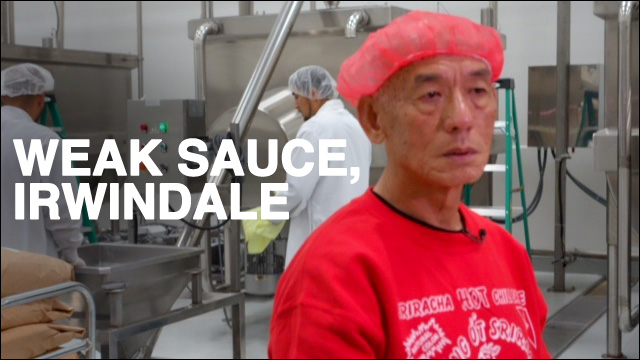 Noooooo! Hot sauce fans, the unthinkable has happened. A Los Angeles Superior Court judge has ordered the Sriracha plant in Irwindale, California to shut down in response to odor complaints from nearby residents:
Sriracha plant must cease operations that cause odors, judge rules
Last month, the city of Irwindale
filed a lawsuit
against Huy Fong Foods, the sorcerers behind the popular spicy red elixir, after nearby residents complained of burning eyes, irritated throats, headaches and other ailments caused by the odor emanating from the Sriracha production facilities. The request for a temporary restraining order
was denied
, allowing the factory to grind the chilis needed for next year's sauce supply.
But on Tuesday, Judge Robert H. O'Brien ruled in favor of the city and ordered Huy Fong to cease all operations that could be causing odors, calling the smell "extremely annoying, irritating and offensive to the senses warranting consideration as a public nuisance."
The city of Irwindale sued Huy Fong Foods on Oct. 21 after nearby residents complained of heartburn, inflamed asthma and even nosebleeds that they said were caused by the spicy odor coming from the hot sauce plant.

O'Brien acknowledged in his ruling that there was a "lack of credible evidence" linking the stated health problems to the odor, but said that the odor appears to be "extremely annoying, irritating and offensive to the senses warranting consideration as a public nuisance."

He also wrote that the odor could be "reasonably inferred to be emanating from the facility," and determined that the city is "likely to prevail" in declaring the odor a public nuisance, according to the ruling.

Irwindale officials applauded the judge's decision.

The city of Irwindale applauds the judge's decision... but the city of Irwindale is weak sauce (pun intended). And the judge's decision sucks for all us Sriracha fans. We shake our fist at you, hot sauce haters of Irwindale.
So what does this mean for next year's supply of that green-tipped goodness? The pepper processing is done, but the mixing and bottling of the sauce occurs on an ongoing basis. Huy Fong Foods founder and CEO David Tran wasn't available for comment, but the company e-mailed this statement to KPCC on his behalf:
We are still open for operations, but if we are forced to stop production, there will be less 200,000 bottles a day of our product, and who would fill the market then - overseas imports …
As always, we want to thank our supporters.
Thank you,
HUY FONG FOODS, INC.

I don't want to scare anybody... but you might want to get started on your Sriracha stockpile.
More here:
Judge orders Sriracha hot sauce maker to get rid of factory odor