It's apparently a family tradition.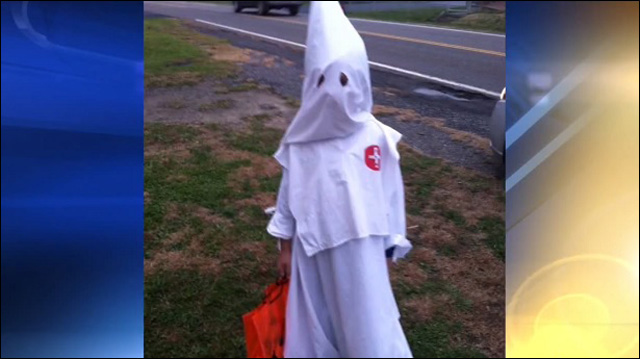 Sorry, I guess we're still talking about Halloween... This year, we saw people dressing up in all manners of
racist costume foolishness
, including those guys who dressed up
bloody Asiana flight attendants
.
Now, it's one thing when grown-ass adults put on a racist costume... but what about the Virginia parent who dressed up her kid in a Ku Klux Klan robe for Halloween? Oh hell no. Yes, this happened. Happy Halloween:
Mom Lets Son Wear KKK Halloween Costume, Says It's A Family Tradition
.
Jessica Black of Craigsville, Virginia let her 7-year-old son Jackson dress as a Klansman for Halloween. When confronted about the costume by local ABC news affiliate WHSV, Black defended her decision, insisting that the robe is a family tradition. Also, as you can deduce from her comments, she's racist:
"My brother has [worn it] when he was in Kindergarten and when he was 13," Black said. She went on to claim there is nothing wrong with the costume or with the White Supremacist group, which she says still exists in their Virginia town. "It's supposed to be white with white, black with black, man with woman and all of that. That's what the KKK stands for."

We're not born into this world knowing how to hate each other. That shit is taught. This poor kid never even had a fighting chance -- he reportedly asked to dress up as a Klansman, and his mom got busy with the sewing machine. Seriously -- family tradition? Lady, your family tradition is f*cked up.
More here:
Mother Responds to Controversy After Son Dresses as Klansman for Halloween
.