These exist now.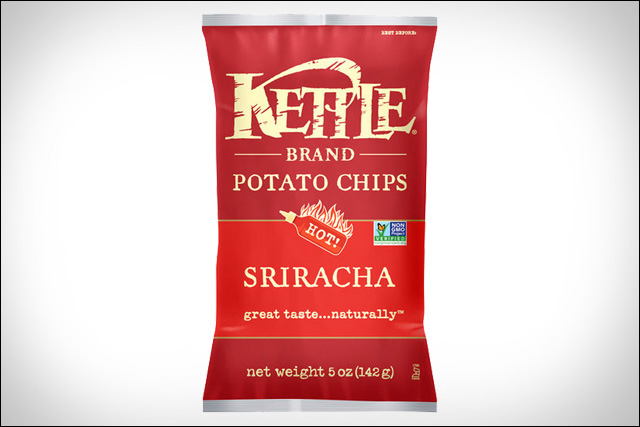 It's been a bad few weeks for Sriracha fans. We've been following the ongoing saga of manufacturer Huy Fong Foods and the struggle to get their signature spicy sauce to the people. Between the
production plant shutdown
and bottle shipments
halted until next month
-- by order of the health department -- strange forces seem to be conspiring against our beloved rooster. We need something to get us through these dark times.
Enter
Sriracha-flavored Kettle Brand Potato Chips
.
Our flavor experts have done it again. This bold flavor is everything you love about the hot sauce on a chip. The combination of chili, garlic, and vinegar creates the authentic taste of the real deal, and is made with all-natural ingredients.

If you were perhaps disappointed by the much-hyped Lay's version that hit shelves earlier this year, then maybe Kettle can give you the spice you need. The chips are available for order in 5-ounce five-packs
online
for $14.99, while bags are scheduled to hit store shelves starting January 5.
According to Kettle's publicist, the chips are meant to taste like the Huy Fong Foods version of the hot sauce. The company's crack team of potato chip scientists reportedly spent months trying to replicate the familiar flavor. Something crunchy to munch on to get your sweet, spicy fix. Heck, I'll probably give them a try.
More here:
Kettle Brand launches Sriracha-flavored chips