Sadly, to some people, two kids enjoying a basketball game will always be just be a couple of "chinks."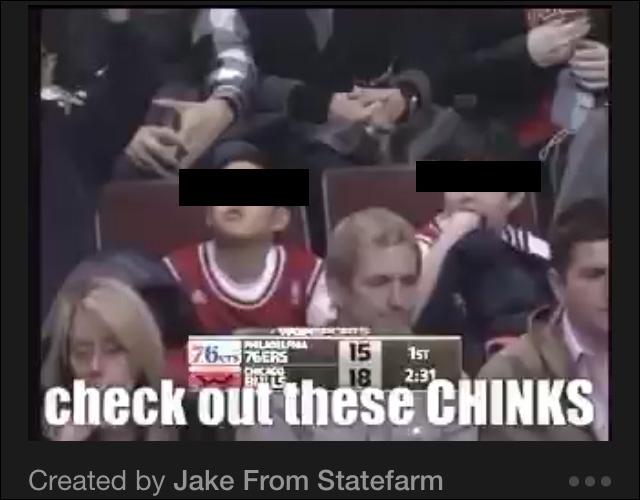 Hey, Yahoo! Great job on the new sports app. That "loop" feature is all sorts of meme-making fun. It's just too bad you didn't quite account for the fact that a lot of your users are complete assholes, like the racist piece of shit who created the image above and shared it on the app Saturday night. (I've blocked out the kids' faces.)
Allow me to explain. Yahoo! Sports recently introduced its newly redesigned mobile app, including a "Loop" feature which allows users to create, customize and share GIFs from real time sports footage.
Boomshakalaka! The @YahooSports App Just Got Way More Fun with Loops http://t.co/FlUWbCrEBY

— Yahoo Inc. (@YahooInc) January 3, 2014
Pretty powerful tool, and I'm sure it's great fun. So obviously, it didn't take long for assholes to start abusing it.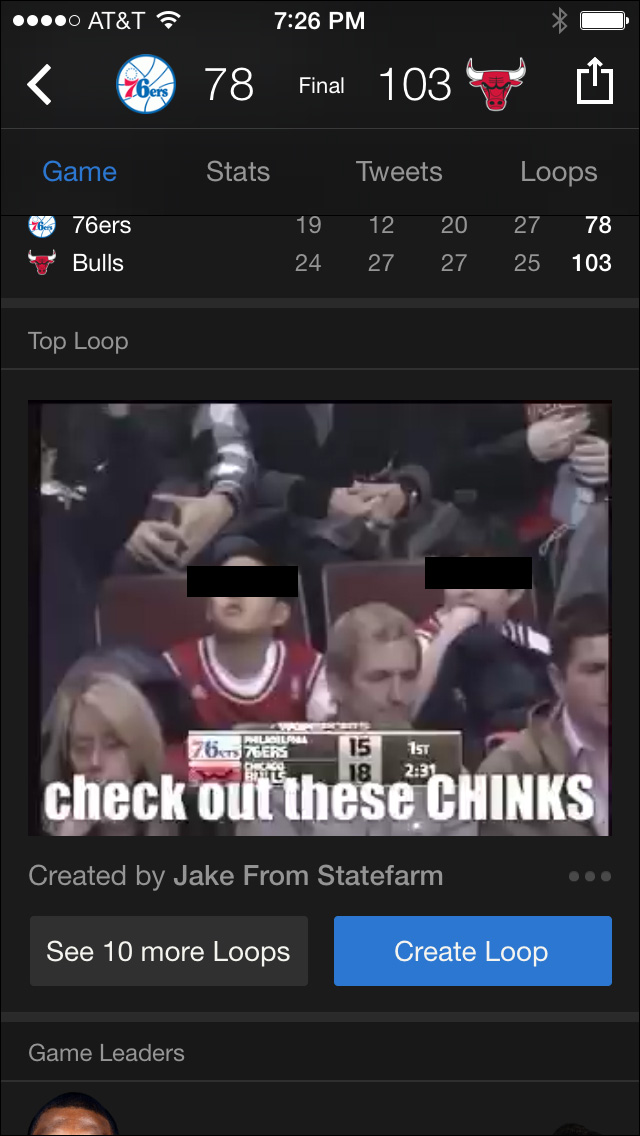 This screenshot was taken by our friend Gordon, who spotted the offending image as he was checking the Yahoo! Sports app for the Bulls/76ers score on Saturday evening. This user-generated GIF was just sitting there to greet sports fans as they logged on. Popular ones get voted to the top, of course. Classy.
Sadly, to some people, two kids enjoying a basketball game will always be just be a couple of "chinks."
A quick Twitter search revealed this wasn't the only racist asshole having fun with the Yahoo! Sports app Saturday night. Check out this tweet from another guy who came across a racist loop on the app while checking scores for the Rockets game:
WTF? This was a loop in my Yahoo Sports app for tonight's #Rockets game? Disgusting. pic.twitter.com/LD3xeq1bL8

— Jeff Balke (@jeffbalke) January 19, 2014
You forgot
"in the armor."
I know that these godawful loops, racist or otherwise, are user-generated and there's only so much moderating that can happen in the moment. To Yahoo's credit, the images in question were both promptly removed from display on Saturday night (though obviously not fast enough to prevent people from viewing them and taking screenshots). Hooray for new apps -- and one more way to spread racist bullshit on the internet.