Sriracha rationing (Limit: 1 bottle) spotted at Korean market in Glendale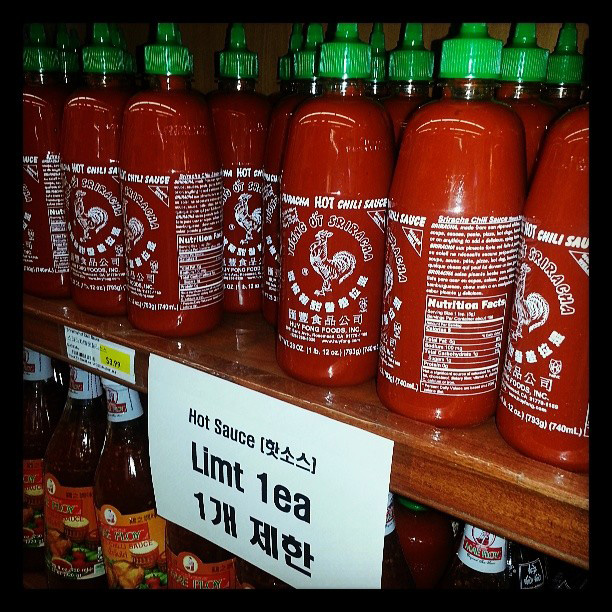 It has begun, hot sauce fans. My friends, the above
photo
was snapped by Instagram user jewelee208 earlier this week at a Korean market in Glendale. Yes, they're limiting purchases of Sriracha to one bottle per customer. There appear to be plenty of bottles on the shelf,
but how long will they last
?
Srirachapocalypse: Local Store Is Rationing Rooster Sauce
I trust you've heard about the ongoing Saga of Sriracha. The Huy Fong Foods factory that makes our beloved sweet, spicy goodness was ordered
shut down
, courtesy of smell complaints from its neighbors in Irwindale. Then shipments of all sauces were
halted by the health department
, delaying new inventory for a month.
And this is the result. We've got HK Mart limiting Sriracha purchases. I don't know if this is part of a broader trend of retailers rationing their rooster sauce supply, or ifHK Mart is reacting to, like, one outrageous dude who came in last week and loaded up a shopping cart full of bottles. But something is definitely in the wind.
Stay strong, Sriracha fans.