Kim Nguyen says she was molested by an LAPD officer before tumbling out of a moving squad car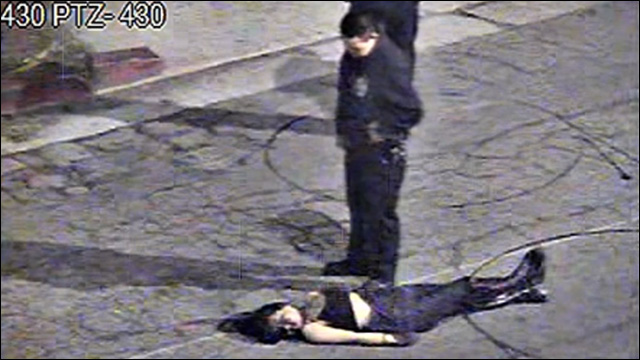 The woman who was caught on camera tumbling out of a moving LAPD squad car last year says that a police officer sexually assaulted her while she was handcuffed in the back seat of the vehicle.
Woman says LAPD cop assaulted her when she was handcuffed in patrol car
28-year-old Kim Nguyen was injured badly in the fall, and
filed a lawsuit
against the officer, his partner and the Los Angeles Police Department. She had been taken into custody and placed in the back of a patrol car on suspicion of public intoxication. As previously reported, at some point, she was ejected from the car.
In recent sworn testimony, she said that before her fall, an officer climbed into the back seat and sexually assaulted her while the other officer continued driving.
At some point after the officer and his partner took the woman into custody on suspicion of public intoxication on March 17, "he was grabbing my left inner thigh, you know, trying to – I'm assuming opening my legs, touching my chest, grabbing at it," the woman testified during a deposition.

The woman told an attorney for the city that the officer pulled her shirt down around her waist. The Times generally does not name alleged victims of sexual assault.

The woman acknowledged that her recollection was not complete, saying she could not recall which of the two officers allegedly assaulted her.

A few minutes after three in the morning, a security camera captured the cop car passing through a downtown intersection. Just as the vehicle passes out of view, the camera pans back and zooms in on Nguyen laying motionless in the street, bruised, bloodied and exposed.
The fall left Nguyen with a shattered jaw and bleeding in her brain, causing severe headaches and pain. She's had to undergo several surgeries to repair her jaw, as well as extensive dental and cosmetic work. Meanwhile the two officers who arrested her are reportedly still in the field.
This is fucked up.
More here:
Woman Who Fell Out Of LAPD Squad Car Says She Was Sexually Assaulted