23-year-old Andrew Silva had just returned from service in Afghanistan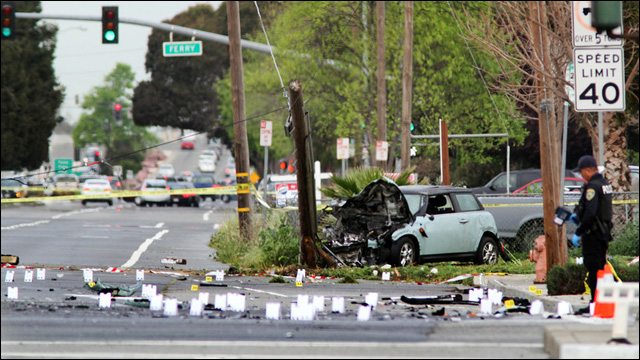 Tragic news out of the Bay Area, where a U.S. Marine who had just returned from service in Afghanistan was struck and killed by a suspected drunk driver Tuesday morning while riding his motorcycle.
Marines, friends honor man killed in motorcycle accident
23-year-old Lance Cpl. Andrew Silva was riding in Fremont when he was hit by a Mini Cooper speeding in excess of 80 miles per hour, throwing him from his bike. He died at the scene. Silva, who was married with a young son, had just returned last month after serving a one-year tour in Helmand Province.
The driver, 23-year-old Alexander Yohn, was arrested and booked on suspicion of gross vehicular manslaughter while intoxicated and hit-and-run causing death or injury.
About 1:10 a.m., an employee at a Taco Bell located about a mile south of the crash scene called police to report a drive-thru customer who appeared to be belligerent and under the influence, police spokeswoman Geneva Bosques said.

At one point during their interaction, the customer attempted to pay for food with a medical card, Bosques said. A description of the customer's vehicle -- a light blue Mini Cooper -- was sent to police. One officer driving south on Fremont Boulevard saw the car driving at a high speed in the opposite direction, Bosques said.

The officer made a U-turn and initiated a traffic stop on the Mini Cooper but it failed to yield and continued traveling north on Fremont Boulevard, she said. The Mini Cooper then struck a motorcycle on the road, slammed into a utility pole and fence, and burst into flames at Fremont Boulevard and Decoto Road, police said.

Officers said Silva was thrown from the bike, which ended up in the parking lot of the Fremont Bank. Silva was pronounced dead at the scene.

How is it that Andrew Silva serves a year in Afghanistan, only to return home and get killed by a reckless drunk driver? And Yohn, intoxicated off his ass, walks away from the collision with no visible injuries?
More here:
Fremont: Marine lance corporal identified as victim struck by possible drunken driver