March 28-30 at The Ohio State University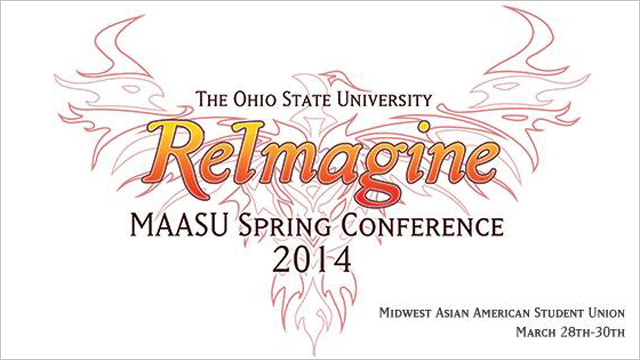 Midwest, represent! It's not too late to register for the Midwest Asian American Student Union's (MAASU)
2014 Spring Conference
, happening March 28-30 at The Ohio State University. This year's conference theme is "ReImagine." College students from around the region will be gathering to hear from speakers, attend workshops, and engage in conversations about APIA leadership, education and activism.
Here are some more details about the conference:
MAASU Spring Conference 2014 :: ReImagine

March 28-30th, 2014
The Ohio State University

The Ohio State University proudly presents: Midwest Asian American Students Union Spring Conference 2014: March 28-30th, 2014

The MAASU Spring Conference is centered around Asian and Asian American topics that range from spirituality and education to arts and LGBTQ. Attendees will have the chance to interact with speakers and advocates for a number of issues and discuss how this relates to leadership and awareness on their campus.

MISSION

The Midwest Asian American Students Union strives to recognize the needs of the Asian Pacific Islanders American (APIA) Community.The objects of the Midwest Asian American Students Union are:

- To assist schools with the establishment of APIA student organizations, APIA cultural center and/or an Asian American Studies Program

- To promote leadership among APIA students through programs including, but not limited to, the Leadership Retreat, Spring Conference and other various programming.

- To address the educational needs and rights of the APIA community and provide scholarship information for all APIA students

- To develop and maintain a channel of communication for APIA student organizations in the Midwest through e-mails, bi-weekly newsletter and networking

- To assist and encourage all APIA students to work toward social change, by providing a forum for social consciousness

- To unite all communities and strengthen the APIA community's stance against all forms of oppression

I'll have the honor and pleasure of leading a couple of workshops and participating in a panel discussion on advocacy at the conference. Hope to see you at Ohio State!
For further information about MAASU, visit the
conference website
and follow updates on
Facebook
.