"Back on that parkour flow"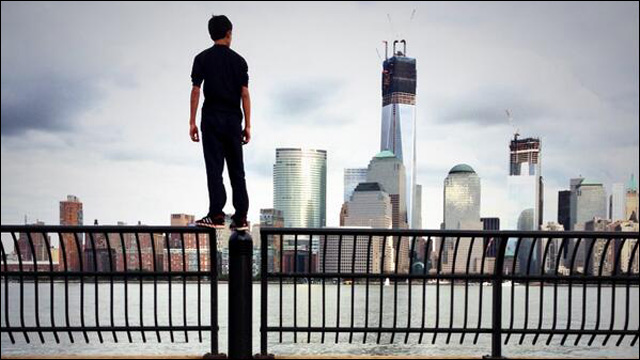 Who is the New Jersey teenager who snuck out of his house in the dead of night, slipped past multiple layers of state-of-the-art security -- including a sleeping guard -- and climbed to the top of One World Trade Center?
Teenager's Climb to Top of World Trade Center Is Under Investigation
That would 16-year-old parkour enthusiast Justin Casquejo of Weehawken, who had himself a little 104-story adventure over the weekend. Casquejo was arrested on Sunday morning and charged with criminal trespassing. But not before he conquered the top of the tallest building in the western hemisphere.
According to Port Authority Police, the kid climbed through an opening in the exterior fence surrounding construction site, made his way up some scaffolding to the sixth floor, took an elevator to the 88th, climbed the staircase to the 104th, snuck past the snoozing security personnel, and made his way on to the roof, where he hung out for about two hours, including climbing all the way up the building's antenna.
The "inattentive" security guard was fired.
The boy, identified as Justin Casquejo from Weehawken, entered the construction site surrounding the tower through a 12-inch by 12-inch hole in the exterior fence, said Joe Pentangelo, a spokesman for the Port Authority of New York and New Jersey. The authority owns the building.

The teenager crawled through the hole around 4 a.m. and was caught around two hours later, Mr. Pentangelo said. A law enforcement source said Mr. Casquejo was arrested in the lobby. He was charged with criminal trespassing, a misdemeanor.

Mr. Casquejo admitted to breaking into the site, according to a criminal complaint.

"I found a way up through the scaffolding, climbed onto the sixth floor, and took the elevator up to the 88th floor," he said, according to the complaint. "I then took the staircase up to 104th flr. I went to the rooftop and climbed the ladder all the way to the antenna."

At least one security guard, whom Mr. Pentangelo described as "inattentive," was fired. It was unclear if any other security personnel were at the site.


Alas, the cops seized Justin's cell phone and camera. It seems that he was nothing more than a thrill seeker. "A skinny kid who got through a skinny hole," according to one law enforcement source. But his late night breach certainly raises questions about what's going on with security at the World Trade Center.
For now, Mr. Casquejo gets his moment of infamy.
More here:
Teen sneaks past guard to reach WTC spire