Video footage suggests police are lying about the crash that killed pedestrian Ryo Oyamada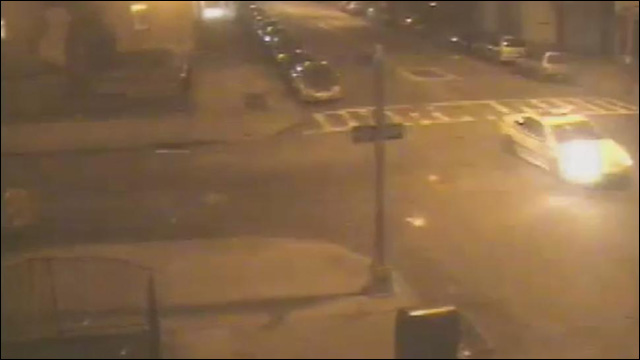 In case you weren't sufficiently angry at bad police... Last year in New York City, a Japanese student was struck and killed by a police patrol car while crossing the street. The victim's family and community members have pressed authorities for the truth about the accident, to no avail. But newly released security camera footage appears to show that the NYPD is lying about the crash and may have tried to cover up the incident.
Video Points To NYPD Cover-Up After Cop Fatally Ran Over Pedestrian
On February 21, 2013, 24-year-old Japanese student Ryo Omayada was
killed by an NYPD cruiser
as he was crossing the street in Queens. The police report claims that the patrol car, driven by Officer Darren Ilardi, was responding to a 911 call and had its emergency lights and sirens activated at the time of impact. However, witnesses say the cruiser's lights were not turned on until
after
the collision.
Newly released video from NYC Housing security cameras in the area appears to contradict the NYPD's account and strongly suggests a coverup in the response to Oyamada's death.
Gothamist
breaks down the footage, edited from two different cameras:
At the 1:35 mark, the headlights of an NYPD cruiser allegedly driven by Officer Ilardi appear in the upper left-hand corner of Camera 1. It speeds out of the right side of the frame at 1:42, after crossing the intersection of 40th Avenue and 10th Street. (This next block is where Oyamada was killed.) Pausing the video at several points appears to show that the cruiser's flashing lights were not on, which is consistent with witness statements to the media and contrary to informal NYPD statements, as well as the police report.

At the 1:45 mark, Camera 1 appears to show the first indication that the NYPD cruiser's flashing lights are on, judging by the reflection of lights on a street sign. This sudden reflection of lights would correspond to witness statements that Officer Ilardi only turned on his flashing lights after colliding with Oyamada.

Steve Vaccaro, attorney for the Oyamada family, believes the original footage has been significantly edited by the NYPD to omit the moment of the crash. Radio transcripts and other evidence suggest that Officer Ilardi wasn't even assigned to the 911 call he claims to have been responding to.
"At a minimum, these videos cast doubt on the public statements of the New York Police Department to the effect that the vehicle that struck Ryo Oyamada had its emergency lights activated."
The Oyamada family has filed a lawsuit alleging that the NYPD purposefully destroyed evidence, failed to properly investigate the crash, and engaged in a cover-up. How about giving this family some peace? And the truth.
More here:
NYPD Accused of Coverup in Death of Japanese Student