I'm just hoping Sulu gets more screen time this time around.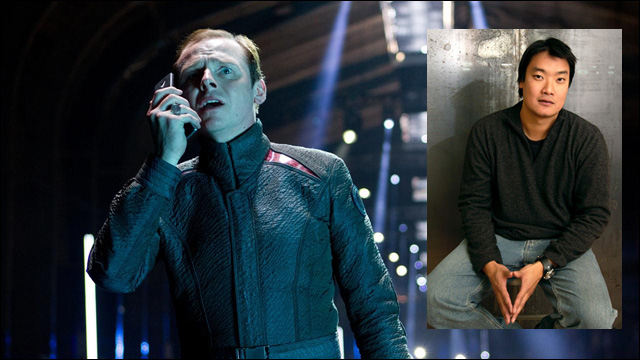 Some more interesting news on
Star Trek 3
... The next installment of the hit sci-fi movie series has a pair of screenwriters.
Doug Jung
is co-writing the script with Simon Pegg. (I know, most outlets have been reporting this co-write relationship the other way around, but you know how we do.)
Simon Pegg Co-Writing 'Star Trek 3' With Doug Jung
Simon Pegg, who plays Scotty in the revamped
Star Trek
franchise, will pull double duty as screenwriter along with Doug Jung, whose previous credits include Cinemax's
Banshee
, HBO's
Big Love
and creator/executive producer of the TNT cop drama
Dark Blue
. He made his feature screenwriting debut on 2003's
Confidence
.
EXCLUSIVE: Simon Pegg has been set to co-write Star Trek 3, the film that just got Fast & Furious director Justin Lin aboard after Roberto Orci exited the helmer chair. He will co-write the script with Doug Jung, creator of the TNT series Dark Blue. Pegg's already a pivotal player in the JJ Abrams-produced Paramount/Skydance pic; he also will reprise his role as Scotty, the engineering wiz originated by James Doohan in the original 1960s Gene Roddenberry series. Don't be surprised if Scotty beams up further on the call sheet. Jung also wrote for Bad Robot and Paramount a film called Diamond, which is how he got the gig. They are just getting underway.

Fans know Simon Pegg is already a veteran screenwriter, having co-written the Cornetto Trilogy (
Shaun of the Dead
,
Hot Fuzz
and
The World's End
) with Edgar Wright, as well the sci-fi comedy
Paul
with Nick Frost and the TV comedy
Spaced
with Jessica Stevenson.
Pegg and Jung take the reins from Roberto Orci, who had been working on a script for the third movie and was originally set to make his directing debut before
Justin Lin took the helm
. Shooting is set to begin in April.
I'm just crossing my fingers that Sulu gets more screen time this time around.
More here:
Simon Pegg and 'Dark Blue' Co-Creator Doug Jung to Write 'Star Trek 3'