Tuesday, February 10 at 9:05pm PST after 'Fresh Off The Boat'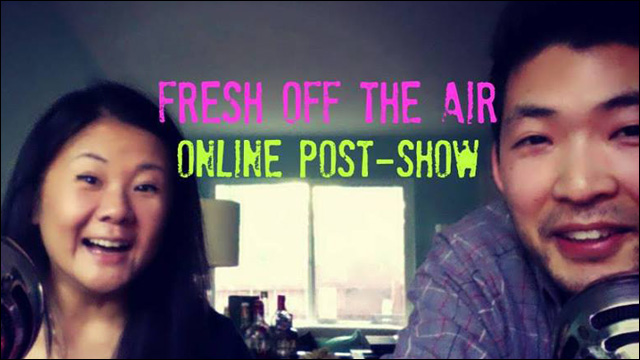 Did you watch last week's broadcast premiere of ABC's
Fresh Off The Boat
? If you enjoyed it and plan on tuning in again, watch the show in its regular time slot on Tuesday night with two episodes at 8:00pm and 8:30pm... then join us on the internets for the after-show,
"Fresh Off The Air"
!
Comedian/writer Jenny Yang and I are hosting an unofficial
Fresh Off The Boat
post-show which will stream online via Google Hangout. We'll talk about the episodes, raise some issues and answer a few questions. Log on and help us continue the conversation about our new favorite show.
We'll hop on
here
at 9:05PM Pacific Standard Time, immediately after the show airs on the west coast.
Here are a few more details:
"Fresh Off The Air" Online Post-Show - Feb. 10 - 9:05PM PST

Join Angry Asian Man, Phil Yu and comedian Jenny Yang for the first-ever unofficial FRESH OFF THE BOAT post-show - streaming live online.

Step 1:
Watch FRESH OFF THE BOAT new episodes on ABC.
8:00 PM PST - Episode 103 / 8:30 PM PST - Episode 104
and
LIVETWEET with us using hashtag #FreshOffTheAir
http://twitter.com/angryasianman
http://twitter.com/jennyyangtv

Step 2:
9:05 PM PST - Click on the link below to hang out with us online and debrief Tuesday's back-to-back episodes!
LINK: https://www.youtube.com/watch?v=DIMMRohe_kg

Step 3:
Comment or ask questions on the chat bar of the livestream page to interact with us in real-time (actually more like a 1 minute lag but whatevs)

For more details, refer to the
Facebook event
. We hope to make this a regular thing. See you on the internet!