Attorney's history of "inappropriate and unprofessional" behavior came to light after "greedy foreigners" remark.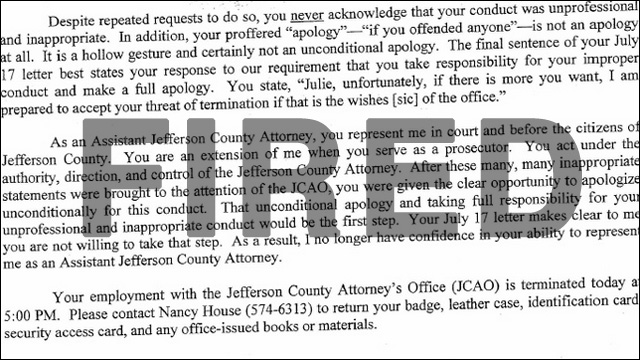 Remember that Kentucky prosecutor who got in trouble for sending a
racially inflammatory letter
regarding the Asian American owners of a local martial arts school? It's official: he's been fired. Good riddance.
Controversial prosecutor Karl Price fired after incendiary comments
After a monthlong investigation, the Jefferson County Attorneys Office terminated local prosecutor Karl Price last week for his unprofessional behavior, as well as his deliberate refusal to take responsibility for his actions.
It all started in May when Price, while working a civil case in his private practice, sent a letter to the attorney representing the owners of Hwang's Martial Arts Academy, calling the Hwang family, among other things,
"greedy foreigners."
Later, Price doubled down and defended his comments, saying the Hwangs could be "illegal aliens" due to their "broken English." He was subsequently
disciplined
for his remarks.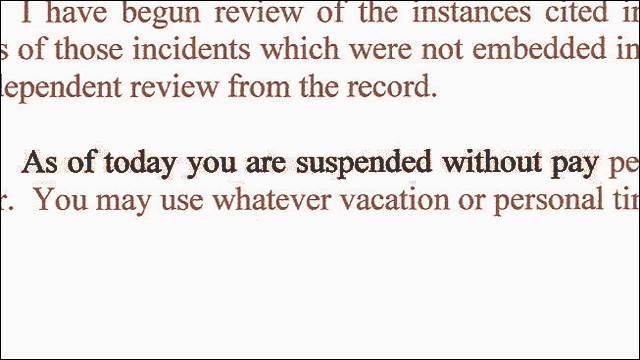 The whole thing broke open when a little digging into Price's past and revealed a checkered history of shitty, racist -- and publicly documented -- behavior. Price was
suspended
without pay pending further investigation. The findings of that investigation, plus Price's refusal to apologize for his behavior, got his ass canned:
That investigation, which was completed July 10, found five more examples of inappropriate statements from Price in court. O'Connell's office presented those findings to Price and told him he must submit a written statement taking full responsibility for his comments and apologize in order to keep his job.

Price responded with a letter on July 17 that included a conditional apology. But the former prosecutor was also defensive, suggesting O'Connell's office was treating him unfairly. In it, Price concluded: "if there is more you want, I am prepared to accept your threat of termination if that is the wishes [sic] of the office."

In his reply Tuesday, O'Connell wrote that Price's refusal to make a full apology had cost him his job.

"Despite repeated requests to do so, you never acknowledge that your conduct was unprofessional and inappropriate," wrote O'Connell. "In addition, your proffered 'apology' - 'if you offended anyone' - is not an apology at all. It is a hollow gesture and certainly not an unconditional apology."

The County Attorney's Office sent Price packing, effective last Tuesday.
Karl Price Firing by insiderlouisville
I don't even understand why it took a full-fledged investigation. It started as unprofessional behavior toward one Asian American family -- to me, that was more than enough to can his ass-- but all that earned him was a slap on the wrist. It didn't take long for the rest of his shitty conduct to get uncovered. Price blatantly discriminated and mistreated people in his capacity as a public servant, and it was all on record.
In the end, he really did to himself. He got himself fired.
More here:
Price's behavior 'shocked' bar group
FACEBOOK