Critics accused the MFA's interactive exhibit of cultural appropriation.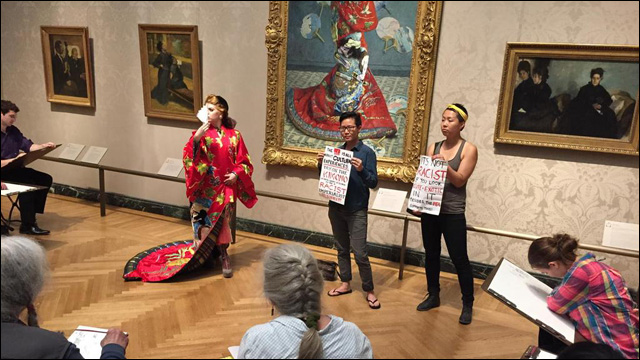 So... the Museum of Fine Arts Boston recently announced
"Kimono Wednesdays,"
an interactive art event inviting museum-goers to pose in front of Claude Monet's
La Japonaise
while wearing a replica of the kimono worn by Monet's wife, Camille, in the painting. I don't know about you, but dressing up like a white lady dressing up like a Japanese lady sounds like a fun way to spend a Wednesday night.
As you might have guessed, some folks were not cool with this cultural cosplay, and
organized a peaceful protest
to call attention to issues of orientalism and cultural appropriation in the promotion. Still, the museum pressed on with the stunt despite the outcry, handing out a one-page flyer to address the criticism, and flatly stating the MFA's position on the matter: "We don't think this is racist." (Well, I guess that settles it.)
But now, as a result of the negative response, the MFA has announced that it's changing its interactive kimono experience. Instead of trying on the kimono, museum visitors will be allowed to "touch and engage" with it.
Here's the
release
the MFA sent out on Tuesday:
The MFA''s mission is to engage people with direct encounters with works of art, and to be an inclusive and welcoming place for all. When the MFA''s painting, La Japonaise by Claude Monet, travelled throughout Japan for an exhibition, historically accurate reproduction kimonos were made for visitors to try on. When the painting returned to Boston and a similar program was introduced at the MFA, we heard concerns from some members of our community, and as a result, we''ve decided to change our programming. The kimonos will now be on display in the Impressionist gallery every Wednesday evening in July for visitors to touch and engage with, but not to try on. This allows the MFA to continue to achieve the program''s goal of offering an interactive experience with the kimonos—understanding their weight and size, and appreciating the embroidery, material, and narrative composition. We will also increase the number of Spotlight Talks presented by MFA educators, to take place every Wednesday evening in July in conjunction with the display of the kimonos. The talks provide context on French Impressionism, "japonisme," and the historical background of the painting, as well as an opportunity to engage in culturally sensitive discourse. We apologize for offending any visitors, and welcome everyone to participate in these programs on Wednesday evenings, when Museum admission is free. We look forward to continuing the Museum''s long-standing dialogue about the art, culture and influence of Japan.

No more kimono selfies, people.
What do you think? Is this a way to address concerns while still offering an interactive experience with the kimono and the painting? It seemed like a big part of the issue was the ill-conceived invitation for folks to play this uncritical, culturally insensitive game of dress-up. That's certainly what I found most problematic.
Here's hoping the MFA follows through and offers opportunities "to engage in culturally sensitive discourse."
More here:
Facing pressure from protestors, MFA ends kimono selfie exhibit
FACEBOOK