Paolo Porpora's "Roses" now prominently features a fist-sized hole.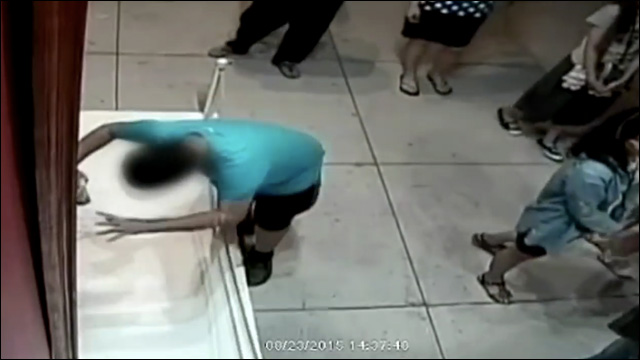 Do you feel anxiety when you're in the vicinity of rare and priceless museum artifacts? You will, after seeing this video. It's like a field trip chaperone's worst nightmare come true. Over the weekend in Taiwan, a young museum-goer accidentally tripped, fell and punched a hole into a $1.5 million oil painting.
12-Year-Old Kid Trips, Punches Fist-Sized Hole in a Million-Dollar Painting
On Sunday, while attending "The Face of Leonardo, Images of a Genius" exhibition at at Huashan 1914 Creative Park in Taipei, a 12-year-old boy stumbled on a rope barrier, lost his balance, extended his arms and made contact with an extremely valuable 17th century painting. And by contact, I mean he punched a hole in it. Paolo Porpora's "Roses" now prominently features a fist-sized hole.
The incident was caught on
surveillance video
:
You can see the panic in his body language: "Whoaaaa. Oh, shit. I did that. Did anyone see that? Should I take a casual sip from my drink? Should I make f**king run for it?" But some other museum-goers call him out, before the docent comes over to tell the little painting-puncher that he's in some deep doo doo.
The damage: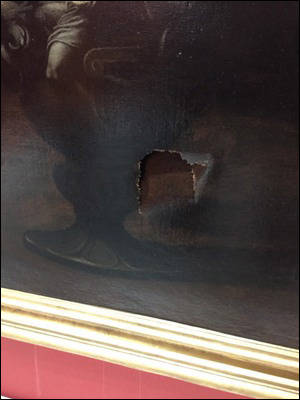 Fortunately, according to Focus Taiwan News Channel, the boy will not be blamed and the kid's family will not be asked to pay for the cost of the painting's restoration. The verrrrrry understanding exhibition organizers will ask the insurance company to cover the costs and compensate the owner of the painting.
Dude, it could happen to anyone. Let this be a lesson for all.
More here:
Boy stumbles, leaves hole in valuable painting at da Vinci exhibit
ADVERTISEMENT