"I AM FROM INDIA AND A SIKH"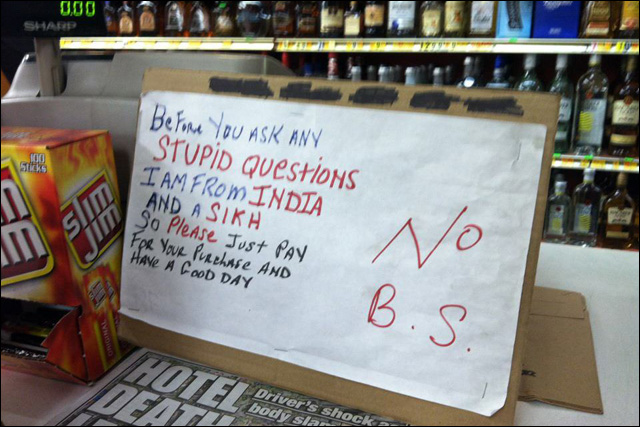 This very direct, let-me-stop-you-right-there sign was spotted at Silversun Liquors in Silverlake, Los Angeles. The sign's author, no doubt fed up with one too many stupid questions from customers about his turbaned, South Asian appearance, was compelled to hand-write and post this mind-your-own-damn-business message.
It reads:
BEFORE YOU ASK ANY STUPID QUESTIONS
I AM FROM INDIA AND A SIKH
SO PLEASE JUST PAY FOR YOUR PURCHASE AND HAVE A GOOD DAY

NO B.S.

Seriously, people. Just pay and be on your way.
My friend Jean took this photo a couple of years ago, but was inspired by recent events to resurrect it.
(Thanks, Jean.)
FACEBOOK