46-year-old Billy Samuels was caught on camera writing "FUCK YOU GOOK" on Justin Kan's garage.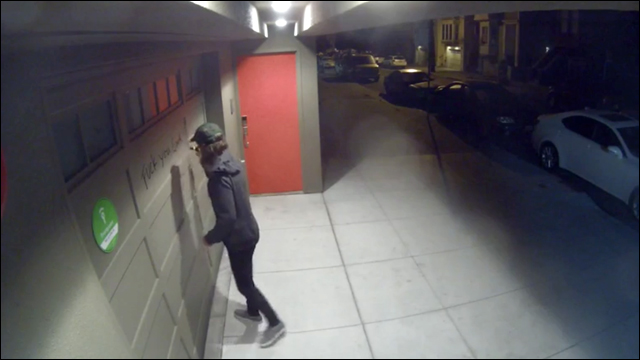 Almost missed this bit of news... In San Francisco, the suspect who was caught on video tagging tech entrepreneur Justin Kan's garage
with racist graffiti
was arrested late last month. Gotcha, sucka.
SFPD Makes Arrest In Duboce Triangle Racist Vandalism Incident
46-year-old Billy Samuels was caught on a surveillance camera writing
"FUCK YOU GOOK"
with a black marker on Kan's garage in Duboce Park on August 15. According to police, Samuels was arrested after officers recognized him from a crime bulletin with still photos taken from the video.
Gatpandan said officers attempted to detain Samuels after recognizing him as a person of interest in the August 15th incident, and that Samuels attempted to flee on a bicycle before being apprehended. Officers determined that Samuels had multiple outstanding warrants for traffic and parole violations and booked him into SF County Jail. According to the Sheriff's Department, Samuels is no longer in custody; we contacted the city's Superior Court to find out if he was released on bail, but were not able to get more information.

Samuels is charged with vandalism with a hate crime enhancement, resisting arrest, obstructing a police officer from performing their official duty, possession of drug paraphernalia, possession of graffiti tools and probation violations. Police say the incident may be tied to other similar "hate-based types of crimes."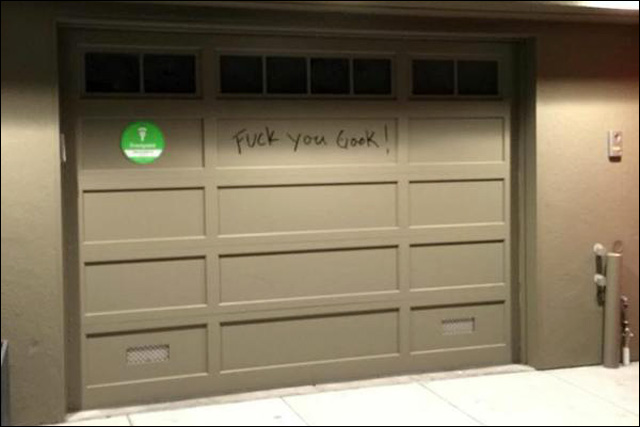 This is one of several instances of hate graffiti to hit San Francisco in recent weeks. Earlier this month, a suspect
was arrested
in connection with the string of "NO MORE CHINESE" messages spray-painted in the Portola neighborhood. 62-year-old John Schenone is charged with five counts of felony hate crime and five counts of felony vandalism.
So what's the connection between Kan and Samuels? Nothing, apparently. Kan is Asian -- one of the few who live on his street -- and Samuels is just a racist guy who carries around a Sharpie pen.
For the record, I don't remember rejecting this guy from Y Combinator pic.twitter.com/Y0ZhmNCZnk

— Justin Kan (@justinkan) August 15, 2015
FACEBOOK