SPOILER SPOILER SPOILER SPOILER SPOILER SPOILER SPOILER SPOILER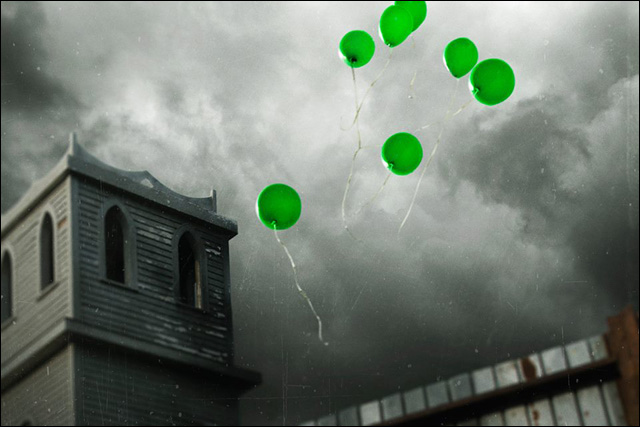 It's been a rather long month for fans of
The Walking Dead
. But last night, we finally learned that the thing that seemingly happened to that one character did not quite happen as we were led to believe.
Perfunctory spoiler warnings apply. Though honestly, that seems rather silly. If it's being discussed on this website, you must have a pretty good idea of who and what I'm talking about...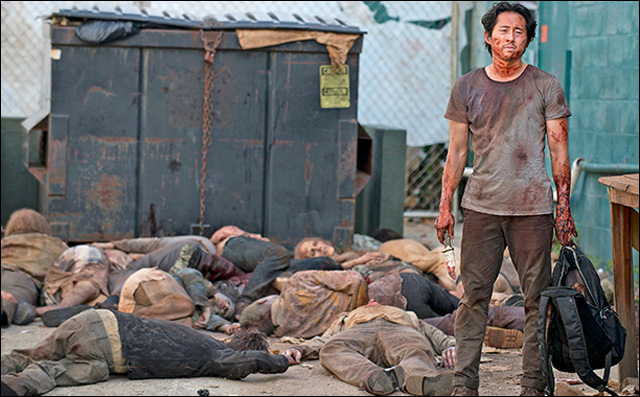 Hello from the other side.
After kicking our asses and ripping out our hearts with the
cruelest of cliffhangers
four episodes ago, fans of AMC's zombie drama were relieved to learn that Glenn, played by Steven Yeun, did not fall prey to the undead.
If you'll recall, when we last saw Glenn, he found himself facing a sea of zombies, cornered with absolutely nowhere to go. Standing atop a dumpster, that tool Nicholas shot himself in the head, dragging Glenn as he fell to the ground. Then all we saw were Glenn's terrified face and blood and guts flying everywhere. But...
Glenn lives.
In the opening moments of this week's show, we see that those indeed were not Glenn's guts being ripped out. As many correctly theorized, asshole Nicholas' body, which fell on top of him, provided adequate enough cover for Glenn to shimmy his way to safety under the dumpster, where he's been
cold chillin'
all this time while the zombie mob dispersed. (In the show's timeline, it's actually only been about 24 hours.)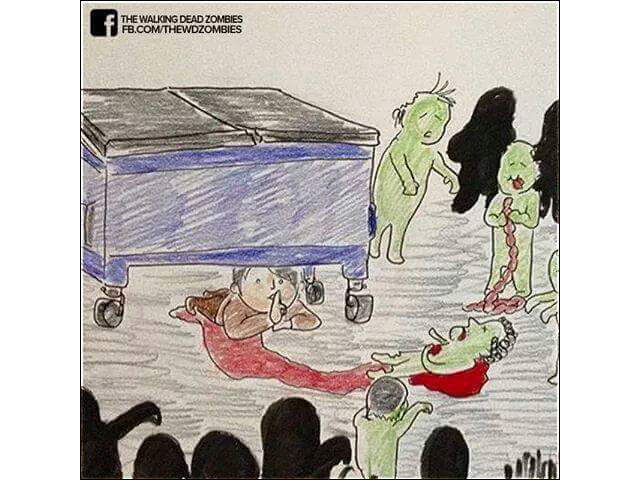 Fairly accurate theory of what happened to Glenn.
The last four weeks have been agonizing for
The Walking Dead
fans waiting on Glenn's fate. The story shifted to other characters. The show temporarily
removed Steven Yeun's name
from the opening credit sequence. Showrunner Scott Gimple vaguely vowed that we'd see Glenn again "in some form."
On top of all that, it seemed that Steven Yeun had sequestered himself inside a remote cave, with not a peep on his character's fate. On Sunday, with Glenn very much alive, Steven came out of hiding and appeared on the
Talking Dead
aftershow (which also included special guest Ken Jeong on the couch -- it was apparently Korean Night on
Talking Dead
), to debrief Glenn's dumpster dive and thank fans for their enthusiastic support.
"I have not been out much," Steven admitted. "I frequent a lot of take-out. My apartment looks like a hoarder's house." He was also seemed pretty glad that the cat was finally out of the bag. "I feel relieved. I feel very grateful. I feel so amazed at the response. I feel bad that I couldn't say anything to everyone and family and friends. I'm pretty sure I've lost friendships along the way. But yeah, it's kind of been overwhelming. I didn't even really know how to take it all."
Steven also broke his month-long social media silence:
A much delayed thank you for all the Glenn love. big love to you all. 🖖🏻✌🏻️🖖🏻✌🏻🖖🏻✌🏻🖖🏻✌🏻🖖🏻

— steven yeun (@steveyeun) November 23, 2015
Say what you will about
The Walking Dead
and the big fake out over Glenn's supposed death. I think it's significant that viewers of one of the most-watched shows on television collectively freaked the frig out over an Asian American character, and it became such massive fodder for speculation and discussion. When's the last time you remember anyone caring that much about a fictional Asian dude? Glenn, you've got fans.
But alas, as we are aware, no one is safe.
The Walking Dead
mid-season finale airs this Sunday on AMC.
ADVERTISEMENT