Students accuse 'Thoroughly Modern Millie' of stereotypes against Asians.
A 2013 production of 'Thoroughly Modern Millie'
Props to these students for speaking out. A Philadelphia high school has dropped plans to stage the musical
Thoroughly Modern Millie
after students complained about the play's racist depiction of Asians.
CAPA Drops Musical After Complaints of Racism
Earlier this month, Philadelphia High School for the Creative and Performing Arts (CAPA) canceled its staging of
Thoroughly Modern Millie
after a group of students protested against the production and its "disturbing stereotypes against Asians," including white actors appearing in yellowface.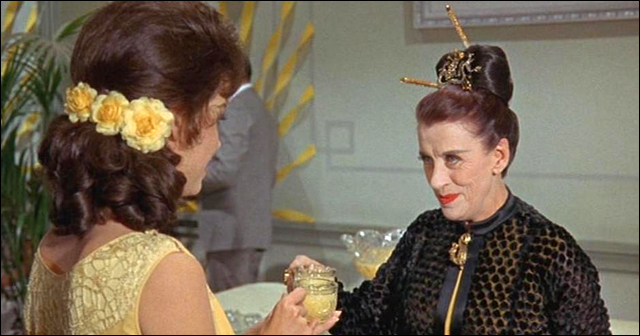 Beatrice Lillie in the 1967 film 'Thoroughly Modern Millie'
The Tony Award-winning musical, based on the 1967 film of the same name, revolves around a 1920s midwestern girl who moves to New York City and nearly gets caught up in a white slavery ring. Wait, what? The play includes a subplot about a hotel proprietor -- dressed in badly disguised yellowface -- who kidnaps young girls to sell to the Far East. Throw in a pair of Asian coolie henchmen characters and whaaat.
The original movie is crap, but I'm told that the 2002 Broadway version of
Thoroughly Modern Millie
actually tried to approach the story's Asian elements with some clever nuance. In recent years,
Millie
has become a pretty popular production among high school theater groups... which much less nuance. The play has drawn its share controversy for not-so-subtle handling of racist Asian stereotypes, which many of these schools apparently have no problem continuing to let their students irresponsibly perpetuate.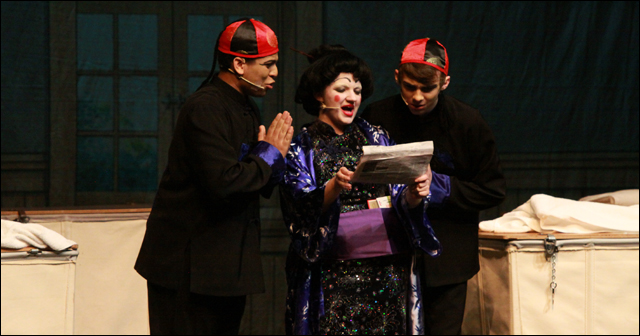 A recent high school production of 'Thoroughly Modern Millie'
CAPA students Jasmine Luca and Tai Joselyn shared about why they were compelled to speak out and raise the issue of racism in their school's production of
Thoroughly Modern Millie
.
When the play was announced, we had to ask: How is any of this modern? Millie is racist, offensive, and definitely should not have been tolerated on CAPA's main stage.

We organized a petition and began talking to our fellow students. We were upset about how actors for this musical were encouraged to use makeup to look like Asians. We did some research and found that blackface has been opposed by African Americans for years because of its racist history. It's no less racist if it happens to other groups.

Our experience in trying to raise our voices wasn't easy. At first, our school wanted to avoid student discussion and debate about the musical. Instead, it was just "on with the show."

Eventually our school offered to "fix" the musical by editing out the most offensive parts. But you cannot make a racist play non-racist just by taking out a few words and changing characters. This is a play whose whole history is just wrong. No matter what, it will always be an offensive musical. Thoroughly Modern Millie doesn't deserve to be cleaned up just so we can ignore its racist beginnings.

School officials reportedly prepared a plan to deal with the play's more problematic aspects, but the school ultimately chose to scrap the production entirely. It will be replaced by
The Music Man
.
More here:
Racism isn't entertainment: Why "Thoroughly Modern Millie" didn't belong on CAPA's stage
FACEBOOK