Here's what the young 'Fresh Off The Boat' star would have said if he'd won the NAACP award.
Last week, the National Association for the Advancement of Colored People presented the 2016 NAACP Image Awards, honoring outstanding people of color in film, television, music, and literature. Our friend Hudson Yang, star of ABC's
Fresh Off The Boat
, was
nominated
alongside several talented young performers for Outstanding Performance by a Youth (Series, Special, Television Movies or Mini-series).
Hudson didn't win. Up against Marcus Scribner -- who did win -- Marsai Martin and Miles Brown of ABC's
black-ish
, and Skai Jackson for Disney Channel's
Jessie
, he knew his chances were pretty slim.
But on the way-out-of-left-field chance that he might hear his name called and find himself standing at the podium, Hudson actually did prepare some acceptance remarks (with a little help from his pops Jeff).
So, shared with permission, here's what Hudson would have said to the Image Awards audience: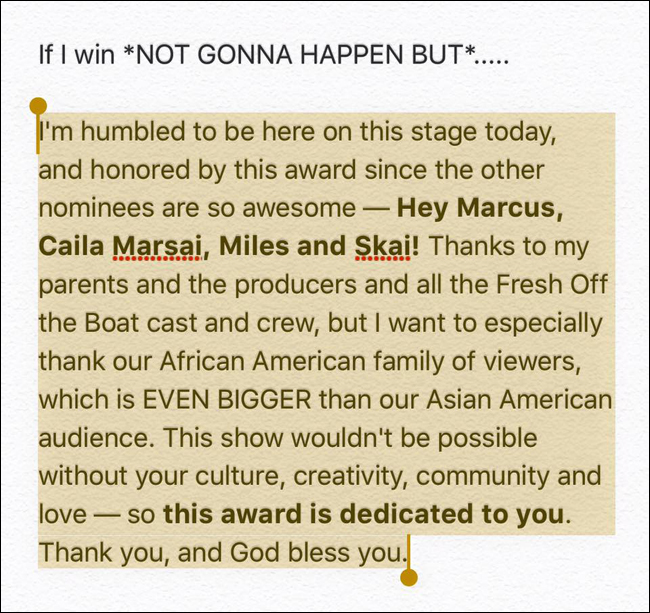 If I win *NOT GONNA HAPPEN BUT*

I'm humbled to be here on this stage today, and honored by this award since the ther nominees are so awesome -- Hey Marcus Caila Marsai, Miles and Skai! Thanks to my parents and the producers and all the Fresh Off The Boat cast and crew, but I want to especially thank our African American family of viewers, which is EVEN BIGGER than our Asian American audience. This show wouldn't be possible without your culture, creativity, community and love -- so this award is dedicated to you. Thank you, and God bless you.

All class, all the way, Hudson. Indeed, as they say, it's an honor just to be nominated.
ADVERTISEMENT