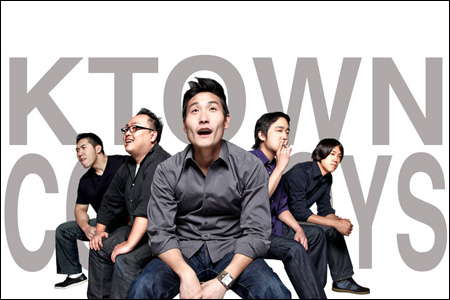 And now, we sing. Here is
Episode Seven
of the comedy webseries
Ktown Cowboys
. Directed by Daniel DPD Park and written by Danny Cho, it tells the story of one guys' epic crash-course introduction to Los Angeles' Koreatown over the course of one fateful evening. Here's part seven:
In this installment, it's time to rock the mic. The boys end up at one of the most sacred of Koreatown institutions: the noraebang. Where everybody comes to share a drink and share song under the dim glow of the karaoke screen. Lots of cute girls this one too, if that's what you're looking for.
Need to catch up with the story? The whole thing makes a lot more sense if you start from the beginning of the night. Be sure to watch
Episode One
,
Episode Two
,
Episode Three
,
Episode Four
,
Episode Five
and
Episode Six
. For more information about
Ktown Cowboys
, go to the website
here
.