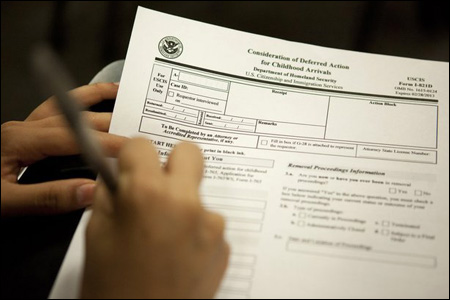 Passing this along for folks who might find this info relevant... The Asian American Center for Advancing Justice has established free legal assistance hotlines in Asian languages for undocumented youth who are eligible for the Department of Homeland Security's
Deferred Action Relief Program
.
As you know, starting this week, certain DREAMers may apply to the U.S. Citizenship and Immigration Services for relief from deportation or from being placed into deportation proceedings. For those who are eligible, Advancing Justice has opened up a hotline for those seeking help with the process:
ADVANCING JUSTICE NATIONAL HOTLINE CONTACT INFORMATION

Individuals in California and throughout the nation who believe they may qualify under the deferred action relief program should contact Los Angeles-based APALC for free direct assistance at (888) 349-9695 or by email at info@apalc.org. APALC will conduct clinics from 2:30 p.m. to 7:00 p.m. every Tuesday and Thursday, during which DREAMers will be individually assisted by APALC staff and trained volunteers. Appointments are mandatory. Those who wish to attend the clinics or have any other questions can call APALC at the phone numbers listed below:

English – (888) 349-9695
Chinese (Mandarin and Cantonese) – (800) 520-2356
Khmer – (800) 867-3126
Korean – (800) 867-3640
Tagalog – (888) 349-9695
Thai – (800) 914-9583
Vietnamese – (800) 267-7395

Individuals also can contact the San Francisco-based ALC at (415) 896-1701 or by email at alc@asianlawcaucus.org.

Advancing Justice warns that individuals should be careful of services that offer to expedite the adjudication of applications. USCIS has stated that expedited adjudication is not available under this program. Also, individuals should only seek the assistance of trusted and knowledgeable immigration attorneys and community based organizations.
This is a historic opportunity, and along with it, there there are going to be people who will try to exploit applicants and exploit this process. That's why it's important to get the right information from a trusted source. For further information, go to the press release
here
.