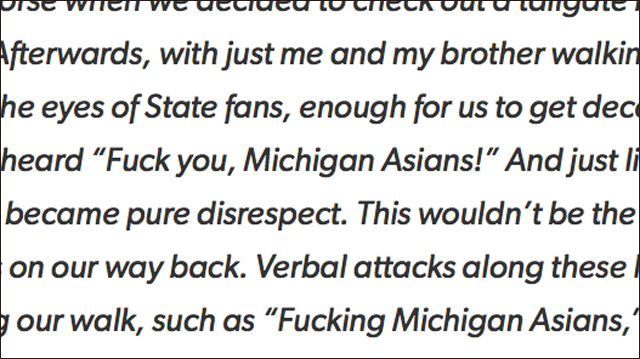 Open Letter from the Vietnamese Student Association at University of Michigan
: "Because the voices of people of color have been and continue to be silenced historically and systematically, we hope to highlight our specific experiences and voices as A/PIAs and contribute to the current dialogues on campus."
#NotYourAsianSidekick is Great. Now Can We Get Some Real Social Change?
The Twitter hashtag #NotYourAsianSidekick sparked an international online conversation about Asian American feminism. Kai Ma writes that now it's time to take it off the internet and into the streets.
Why #NotYourAsianSidekick Started a Social Media Brushfire
: Jeff Yang's latest "Tao Jones" column on why the #NotYourAsianSidekick conversation went global, and turning passion into productivity into progress.
Reporter Follows Up on a Hard Story and Finds a Really Happy Ending
: Two years ago, a
Boston Globe
reporter wrote a profile about two amazing teens, George and Jimmy Huynh, who were basically raising and supporting themselves through high school.
The original story
is heartbreaking, but the aftermath is not.
When "Life Hacking" Is Really White Privilege
: You've seen those lists on how to get more out of life for less. Personal development gurus can get what they want, so why can't you? (Hint: It might be 'cuz you're not white.)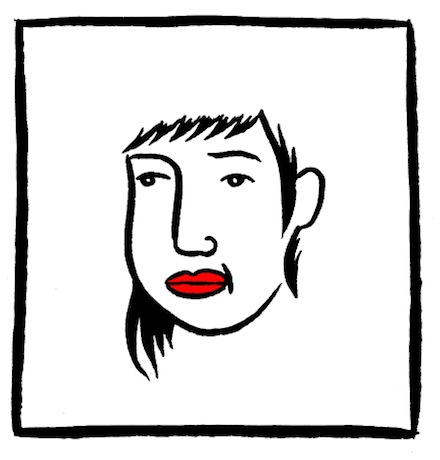 IT HAPPENED TO ME: I Was Sexually Harassed Onstage At a Comic Convention Panel
: Illustrator Mari Naomi talks about an unfortunate reality of comic convention panels: sexual harassment.
Standing With Sangeeta
: More about Sangeeta Richard, Indian diplomat Devyani Khobragade's domestic worker whose case has sparked opinions and reactions across the nation.
Chinese-American Descendants Uncover Forged Family History
: Chinese American families who came to the U.S. during the Chinese Exclusion Act of 1882 hustled their way in any way they could, including forging papers to enter the U.S. Today, their descendants are still trying to uncover the truth.
Senator Daniel Inouye Tribute: Why We Need More Leaders Like Him In Congress
Daniel Inouye was the U.S. Senate's second-longest serving member and the first Japanese AMerican to serve in the House of Representatives and the Senate. His life inspired many, and HuffPo serves up a list of a few reasons why we need more leaders like him in Congress.
Essays on Roller Coasters
: "A few weeks ago, I helped my brother Matthew edit an essay for the seventh grade, a personal narrative about overcoming his fear of roller coasters. Having never ridden a roller coaster with him, I asked Matthew whether any of the story was true." 'No,' he responded, 'I made most of it up to sound more American.'"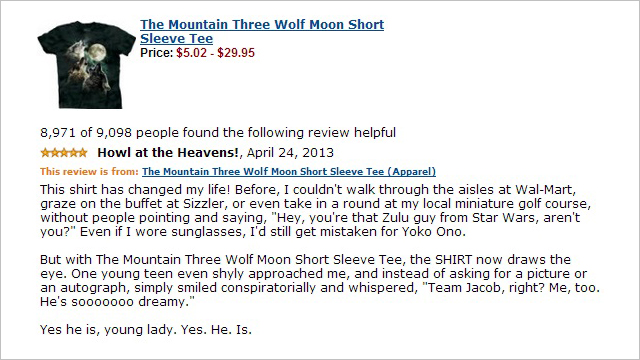 What Do Famous Celebrities Do In Their Spare Time? Apparently, Writing The Funniest Amazon Reviews On Earth
: After retiring from television, George Takei is finding other ways to entertain the world. For the past eight months, he's been writing hilarious product reviews on his Amazon purchases.
15 Signs You Grew Up In A Korean Family
: From the embedded smell of kimchi in your refrigerator, to bowl cuts, to fan death, these are the tell-tale signs of a Korean American upbringing.
4 South Asian Actors Who Could Have Been Cast as Freddie Mercury in the Upcoming Biopic
: British actor Ben Whishaw is set to play Freddie Mercury in an upcoming biopic of the Queen singer's life. The Aerogram has some suggestions of South Asian actors who could play him.
10 Holiday Jams You Need on Your 2013 Playlist
:
Hyphen's
holiday playlist.
Why is There No Filipino-American Music Scene in Orange County?
OC Weekly
wonders why it's so hard to define a distinct Filipino American music scene in Southern California.
The Lab Magazine - YUNA
: A short interview with Malaysian songstress Yuna.
From Web Comic To Printed Page
: The story of how Yumi Sakugawa's "I Think I Am in Friend-Love with You" went from web comic sensation to best-selling book.
Q&A With 'Life on Four Strings' Filmmaker Tadashi Nakamura
: An interview with Tad Nakamura, who recently won the Audience Award at the Gotham Independent Film Awards in New York for his documentary,
Jake Shimabukuro: Life on Four Strings
about the Hawaiian ukulele virtuoso.
Chris Cheng - Coming out of the gun closet
: Chris Cheng, the Season 4 champion of the History Channel's
Top Shot
, talks about the Second Amendment, his homosexuality, and working at Google.
A dean who admits law schools' major flaws
: UC Hastings' Frank Wu has opted to slash enrollment at the prestigious law school by 20%, citing the glut of law schools and students.