"NO TEAR GAS MADE HERE"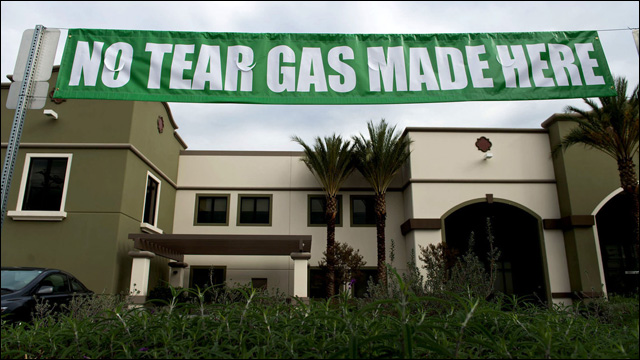 So the Sriracha factory has been shut down. Last week, a Los Angeles Superior Court judge ordered the Huy Fong Foods plant in Irwindale, where they manufacture and bottle that magical spicy goodness, to
cease operations
in response to odor complaints from nearby residents. Time to start your Sriracha stockpile.
So how is Huy Fong CEO David Tran handling the shutdown? By being his usual badass self. After all, he is the maker of the awesomest sauce in the land. Take note of the green
"NO TEAR GAS MADE HERE"
banner they've defiantly posted outside the factory, sending a message to their Irwindale neighbors.
Huy Fong Foods founder David Tran has said little since a judge last week ordered his company to stop the smell of Sriracha chili sauce from seeping out of its Irwindale factory and irritating neighbors' eyes and throats.

But Tran sent a message of defiance with a bright green banner outside the facility that reads: "No tear gas made here."

Irwindale's attorney Fred Galante said Monday he was disappointed to see the banner raised. "That just doesn't strike me as a cooperative tone," he said.

You're damn right, it ain't cooperative. Sriracha is not going down without a fight!
More here:
Sriracha hot sauce maker erects defiant banner in legal dispute
.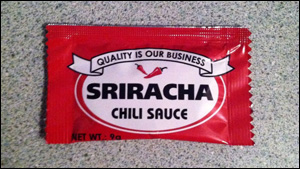 Meanwhile, someone has put up a Sriracha packet
for sale on EBay
for $10,000, claiming it to be the
Last Packet of Sriracha Ever Made
. Not even a full bottle. Just a packet.
For those who think ten thousand bucks for a packet of Sriracha is just plain crazy, EBay user larryhagman warns, "Well guess what, when the zombie apocalypse arrives and you're out of Sriracha, which are you gonna miss more -- Sriracha for that rodent you just cooked, or the $10,000?"
Like I said, might be time to start your hot sauce stockpile.