You knew it was bad. This infographic shows how bleak it really is.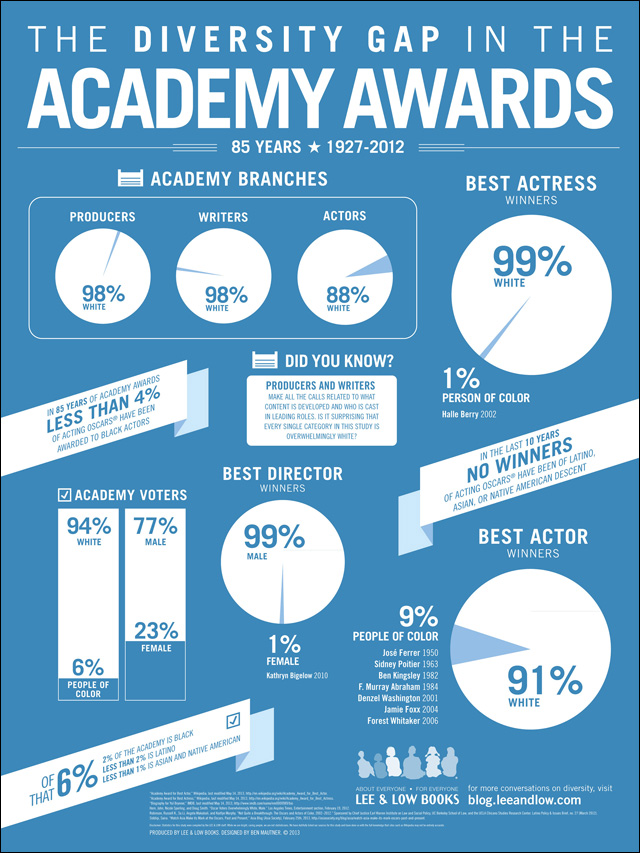 The 86th Academy Awards, which celebrates excellence in filmmaking, will take place this weekend. It's Hollywood's biggest night! As a movie fan, I used to be avid follower of the Oscars, only to become increasingly disillusioned, year upon year, by the Academy's glaring racial and gender disparities.
The handy infographic above, created by as part of a recently released Diversity Gap study by Lee & Low Books, breaks down the racial and gender representation of the Academy Awards.. I don't think it's going to be a mind-blowing revelation to anyone that Oscar's diversity gap is stunningly awful.
Where's the Diversity, Hollywood? 85 Years of the Academy Awards
You knew it was bad. The numbers show just how bleak it really is. The Producers and Writers branches of the Academy of Motion Picture Arts and Sciences are both 98% white. Academy voters are 94% white and 77% male. In 85 years, only eight people of color have ever won Oscars in the Best Actress or Best Actor categories. Only one woman has ever won Best Director -- and that was only four years ago.
Lee & Low Books is an award-winning children's book publisher focusing on diversity and stories about everyone, for everyone. To read the rest Diversity Gap study, which includes interviews with independent actors and filmmakers, go
here
.