Mayor Dennis Kneier was caught on video throwing a bag of shit on Philip Lao's property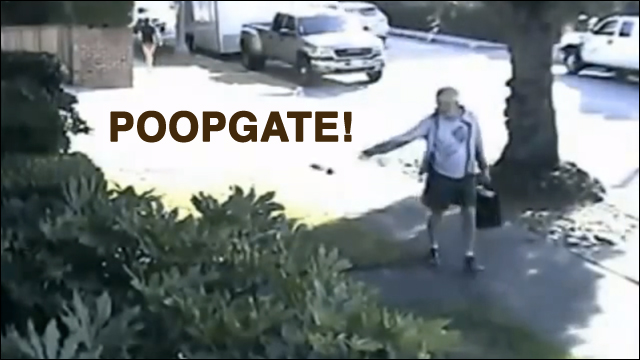 A dramatic development in "Poopgate"... The mayor of San Marino, California has officially resigned, bowing to public outcry after he was caught on video tossing a bag of dog waste onto his neighbor's property.
San Marino mayor resigns after being censured over dog poop incident
Mayor Dennis Kneier was
caught on surveillance video
throwing bag of crap onto the walkway of his neighbor, Philip Lao, earlier this month. Lao believes this was no accident -- it was dog shit retribution. He claims mayor was upset with him for placing a "NO POOP ZONE" sign outside of his home, as well as his opposition to a proposed dog park nearby. He shared the video publicly, and the footage went viral.
Ten days after the incident, Kneier resigned.
In his resignation letter, Kneier admits his actions were inconsiderate, disrespectful and wrong.

"I have apologized to my neighbor for my action, and I will pay a fine for littering," Kneier wrote. "These events continue to be embarrassing to me and to the city. Because of this, I have decided to step down as mayor."

On June 7, resident Philip Lao found a black bag of dog poop on his side walkway on the 1400 block of Charlton Road. He reported the incident to the San Marino police and showed them a video recording of the incident. Officers later cited the mayor for littering.

On June 11, about 100 people attended a city council meeting to express their opinion about what they called "Poopgate" and Kneier's public service record. The room capacity for Council Chambers is 49.

Turns out, if the mayor throws a bag of dookie on somebody's property, the community will not be cool with it.
Kneier, who was cited by police for littering, will stay on to serve as city councilman. Effective immediately, City Councilman Eugene Sun will assume mayoral responsibilities through the end of the month. The council will meet next week to select a new mayor. Sling the poop, face the consequences.
More here:
San Marino mayor resigns over tossing dog poop into neighbor's yard