Netflix's upcoming original series features lots of swords and gongs and sexy Asians on silk sheets.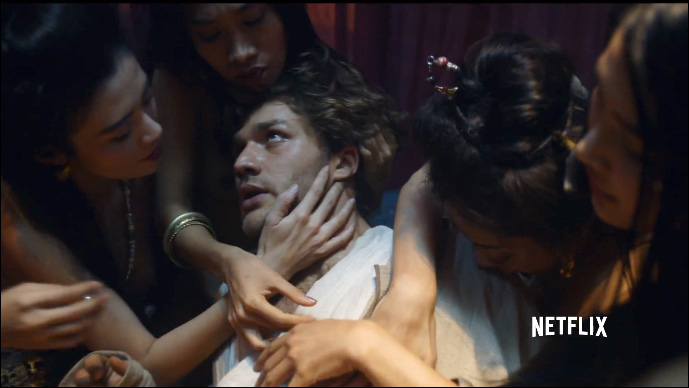 Netflix's latest venture into original programming is
Marco Polo
, an epic, big-budget sex-and-violence adventure series based on the exploits of the famed explorer, who traveled down the Silk Road from Italy to China in the 13th century. Uh oh. It's the original white-guy-in-Asia adventure. The first
trailer
for the series has dropped, and it is indeed an eye-rolling affair:
Ooh. Lots of swords and gongs and mysticism and opium and sexy Asian ladies on silk sheets and shit. And dude, did I just see a naked person doing some kung fu? I would expect nothing less from creator John Fusco, the guy responsible for the truly terrible
Forbidden Kingdom
. (I can't say this gives me much hope for the upcoming
Crouching Tiger
sequel, which he also wrote, and will also
premiere on Netflix
.)
Marco Polo
stars as Italian actor Lorenzo Richelmy in the title role. The cast also includes Joan Chen, Zhu Zhu, Remy Hii, Olivia Cheng, Claudia Kim, Uli Latukefu, Tom Wu and Benedict Wong as Kublai Khan.
Um... at least it's not
Brian Dennehy in yellowface
?