Aasif Mandvi's comedy webseries aims to change the conversation about Muslims in America.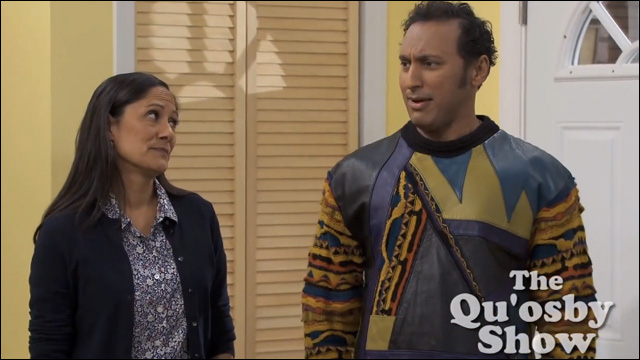 America, get ready for
The Qu'osby Show
. Actor/writer/filmmaker Aasif Mandvi, who you know and love in his role as Senior Brown Correspondent for
The Daily Show with Jon Stewart
, is putting together a webseries to combat anti-Muslim hate and have some fun while they're at it, classic sitcom style. And he needs your help.
Aasif
explains
:
The idea was actually sparked a couple of years ago, when Katie Couric suggested that America might need a "Muslim version of The Cosby Show" to combat bigotry expressed against Muslims in the United States. The Daily Show thought that was a pretty good idea and ran with it to create a hilarious one-off parody, The Qu'osby Show starring Mr. Mandvi:


Now, Mandvi and his team are revisiting the idea to create a four-episode webseries, in the style of TV sitcoms of yesteryear, that lampoons and addresses anti-Muslim prejudice in the United States.


Why not build on the original to create an actual web series? Each episode could touch on a different challenge faced by many Muslim Americans, all resolved in classic sitcom fashion. So after getting the thumbs up from Comedy Central (thanks guys!), for the past year I've been producing The Qu'osby Show web series and advocacy campaign with Sweet 180, my production and management company, Moore + Associates, a communication and campaigns firm, and an Advisory Council of prominent Muslim rights and civil rights organizations including ACCESS / National Network for Arab American Communities, Center for New Community and Muslim Advocates.

I co-wrote and star in this four-episode web-series that lampoons and addresses anti-Muslim prejudice in the United States. I am working with an all star creative team including Co-writer and Director, Miles Kahn, Senior Producer on The Daily Show and Mrs. Qu'osby, Sakina Jaffrey (House of Cards). More details on other cast members to come...

Through the series we hope to expose a broad audience of Americans to some of the realities of what it means to be an American Muslim. We believe it will encourage some of them to rethink their fears and stereotypes. After all, everybody loves the Qu'osbys! Even if they don't know it yet.

According to the project's
Indiegogo
campaign, each episode will touch on a range of hilaaaaarious issues, including surveillance and spying in Muslim communities, online bullying and hate networks, media bias, and the cynical use of anti-Muslim prejudice for political gain. This is your chance to take a stand against anti-Muslim bias, and support a project that's doing it in a creative, fun way.
The goal is to raise $20,000 by December 18 to complete post-production. For further information, and to contribute to
The Qu'osby Show
, head over to the project's
Indiegogo page
.