Episode 204: "The Fall Ball" airs Tuesday, October 13, 8:30 PM on ABC.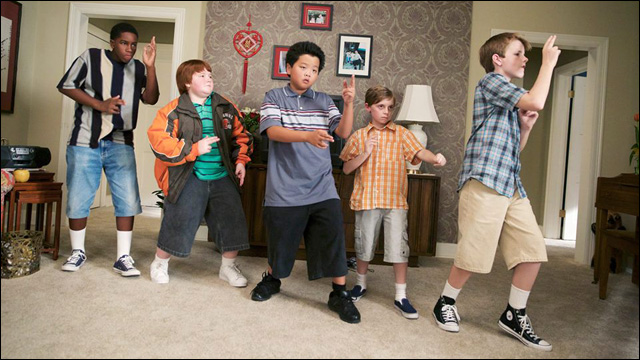 ABC's hit Asian American family sitcom
Fresh Off The Boat
airs Tuesday nights at 8:30pm, right after
The Muppets
. The comedy, inspired by the memoir of chef Eddie Huang, tells the story of the Huang family, a Taiwanese American family getting their immigrant hustle on in suburban Orlando, in pursuit of the American dream. If you missed this season's episodes, they're available for viewing on the
ABC website
.
Fresh Off The Boat stars Randall Park as Louis, Constance Wu as Jessica, Hudson Yang as Eddie, Forrest Wheeler as Emery, Ian Chen as Evan and Chelsey Crisp as Honey. With special guest assist from Lucille Soong as Grandma Huang. And this week, we get a
guest appearance from Jeremy Lin
.
In addition, Louis helps Eddie get his groove on for the school dance. Here are some more details about episode 204, "The Fall Ball":
"THE FALL BALL"
Airdate: Tuesday, October 13 (8:30-9:00pm)
As Eddie's first school dance approaches, Louis is determined to make the night as perfect as a John Hughes film. Meanwhile, Jessica spends the day with Grandma Huang in hopes of getting on her good side so she will invest in her new business venture.
Guest starring are Jeremy Lin as Chau, Lucille Soong as Grandma Huang, Paul Scheer as Mitch, Rachel Cannon as Deidre, Stacey Scowley as Carol-Joan, Isabella Crouch as Alison, Prophet Bolden as Walter, Trevor Larcom as Trent, Dash Williams as Brian, Evan Hannemann as Barefoot Dave, Amanda Rogers as Beth, Tommy Franklin as Buck, David Goldman as Principal Hunter, Misty Monroe as Shauna and Jillian Armenante as Nancy.
"The Fall Ball" was written by Jeff Chiang and directed by Tristram Shapeero.
ADVERTISEMENT