First grader Jeremy Tsou suffered a fractured skull, requiring brain surgery.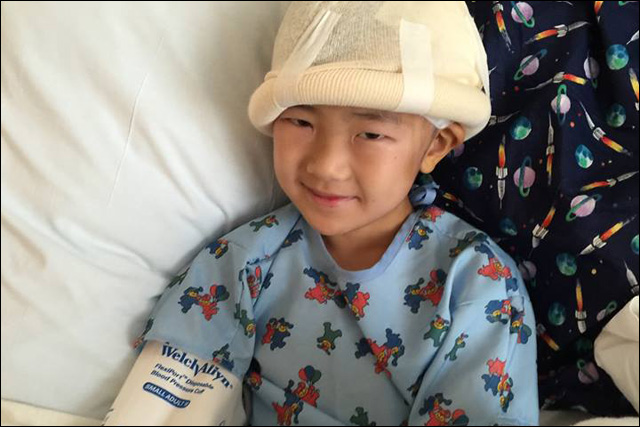 More on the Southern California first grader who was bullied so severely, he
suffered a skull fracture
and had to undergo brain surgery. Thanks to social media shares, Jeremy Tsou's story has gained some traction -- over five months after the incident -- and now mainstream media outlets have started to pick up the story.
Parents Say Bullied Boy Needed Brain Surgery
Eli Tsou and Jenny Yang learned their son Jeremy, then a first grader at Baldwin Stocker Elementary School in Arcadia, suffered a head injury on May 19 when the Arcadia Unified School District sent them a "Notification of Possible Head Injury" letter. Jeremy says he fell and hit his head on a desk when another student tripped him.
While the letter said the injury "did not appear serious," it turns out that Jeremy suffered a fractured skull and brain bleeding, requiring surgery.
Tsou and Yang said they discovered Jeremy had a fractured skull when he was taken to a hospital after he began vomiting and complained of headaches. Jeremy told his parents he was injured at Baldwin Stocker School when he was tripped by a fellow first-grade student and hit his head on a desk before he fell to the ground.

"He was vomiting in the bathroom and screaming from severe headaches, and Eli and I just knew that after having a head injury the day previous that it was not a good sign," Yang said.

The letter, signed by the school principal and district nurse, confirmed that Jeremy was pushed by another student. However, the district later said it completed an investigation into the matter and released a written statement citing no findings of bullying or physical abuse.
The Arcadia Unified School District officially claims that Jeremy hurt himself by
tripping on a pencil
.
Yang says she shared Jeremy's story on
Facebook
because her family wants accountability for what happened, but more importantly to create awareness and action around the issue of bullying. They've also created a Facebook group,
Justice for Jeremy
.
A spokesman for the district says many of the statements made in Yang's Facebook post are factually inaccurate. Yang says she'll be "glad to respond" to the district's accusations. Jeremy's parents plan to challenge the district's finding and conclusions at a school board meeting on Tuesday night.
More here:
Arcadia parents' Facebook post over alleged 'bullying' of 7-year-old creates stir
FACEBOOK