Not necessarily the angriest, just the most viewed.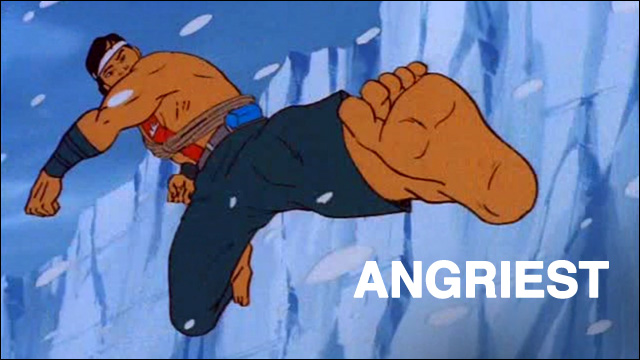 1.
This is Why Jessica Huang Rules Everything Around Me
Watch her unleash Asian Mom Fury on some punk-ass kids in this clip from 'Fresh Off The Boat.'
2.
Five suspects charged with murder in fraternity hazing death
Former members of Pi Delta Psi arraigned in 2013 death of Baruch College student.
3.
What the f*ck just happened on The Walking Dead?
SPOILER SPOILER SPOILER SPOILER SPOILER SPOILER SPOILER SPOILER
4.
School district claims kid wasn't bullied, hurt himself
First grader Jeremy Tsou suffered a fractured skull, requiring brain surgery.
5.
Skateboarder tackled, pepper-sprayed in Columbus Circle
NYPD officer caught on camera violently arresting skateboarder.
6.
Jeremy Lin scores 17 points in Hornets season opener
Watch the video of Jeremy's game highlights.
7.
Defense blames Indian grandfather in police brutality case
"When you come to the U.S. we expect you to follow our laws and speak our language."
8.
Sikh customer called "Osama" by Nathan's cashier
Parampal Singh Ghai is latest recipient of a racial receipt.
9.
NBC developing family comedy 'I Love Lakshmi'
Inspired by writer Doug Prochilo's real-life experience marrying into an Indian family.
10.
67-year-old man assaulted and robbed by group of teens
David Vo was repeatedly punched in the face by three teen suspects in South St. Louis.
Stay Angry, my friends.
ADVERTISEMENT