Former Oklahoma City police officer was found guilty of 18 sexual assault charges.
On Thursday, a judge sentenced former Oklahoma City police officer Daniel Holtzclaw to 263 years in prison, the full amount recommended by a jury, for the rape and sexual assault of eight women and girls.
Oklahoma City Cop Daniel Holtzclaw Sentenced to 263 Years for Rapes
Holtzclaw was accused of committing sex crimes against thirteen Black women. He was convicted in December on 18 of 36 counts of first-degree rape, second-degree rape, sexual battery, forcible oral sodomy, procuring lewd exhibition, indecent exposure, burglary and stalking.
Prosecutors argued that Holtzclaw, who is white and Japanese, specifically used his position and power as a law enforcement officer to target Black women in a low-income neighborhood and intimated them into keeping his crimes a secret. He was convicted of offenses involving eight of the women.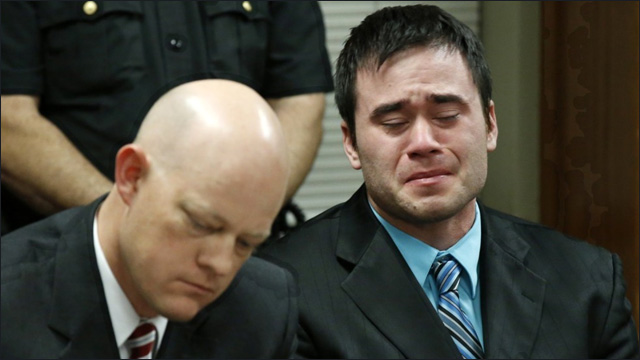 On Wednesday, the day before the sentencing, Holtzclaw's attorney Scott Adams filed a motion for a new trial, claiming that his client was denied a fair trial because "the government made deliberate discovery violations and misrepresentations, undermining confidence in the verdict."
According to court documents, Adams alleged that a Facebook post by Oklahoma City police detective Jake McClain, who insisted that he had inside knowledge about the case, referenced evidence that was "withheld from the defense from by the government." The Facebook post has since been deleted.
The judge denied the motion at Thursday's sentencing hearing.
A jury had recommended a total sentence of 263 years on the 18 counts on which Holtzclaw was convicted, but the judge had the option rule that the time be served either concurrently or consecutively.
The sentence will run consecutively. Rot in jail, dirtbag.
More here:
Disgraced ex-officer Daniel Holtzclaw sentenced to 263 years in prison for rapes, sexual assaults
FACEBOOK