12.31.03

Hey, David Guevara, quit being a weirdo, you ass. Happy New Year.


12.31.03

More reason to hate late night TV comics... So last night on The Tonight Show, Leno was doing a "Good Name, Bad Name" bit. His latest offensive crack: "Hush Puppies—good name for a shoe company, bad name for a Korean restaurant." It just never ends, does it? That's racist!


12.30.03

Here's a great story from last month on Norm Chow, the most highly decorated assistant coach in the country: USC's Chow in coach conundrum. He has won the Frank Broyles Award for top assistant coach three times, coached two Heisman Trophy winners, and has coached teams in 25 bowl games. Yet he has never been head coach. Chow is 57 and has been an assistant coach for 31 years. (He has been offered coaching jobs.) You wanna talk about discrimination in college football? Read the article. It discusses the matter from an Asian American perspective, exposing racism in the very dialogue on racism in America. Where are all of the diversity activists and outspoken sports commentators advocating for guys like Norm Chow? Nowhere in sight. That's racist!


12.30.03

Glenn Yamahiro is Wisconsin's first Asian American judge: Doyle nominates stateís first Asian-American judge


12.30.03

On December 11, 108 Filipinos left the United States for their homeland—the third wave of Filipinos deported from the United States since 9/11. Non-permanent residents from the Philippines have been especially scrutinized because of the presence of Muslim extremists in the country with ties to Al Qaeda. But Filipinos say some are being wrongly targeted and unfairly treated: More Filipinos Deported in Anti-Terror Sweep


12.30.03

I've been doing some year-end clearing of my In-Box. Here's something I think many will probably interested in... I received a message from a guy indentifying himself as the person behind the infamous 'WHY' cards I posted about back in July. Apparently, he's an art student in Boston with mission. He started handing out these WHY cards on Jan. 1st, 2003 targeting young Asian female/White male couples, and when he contacted me last month, he had already handed out 287 'WHY' cards to AF/WM couples, compared to 23 Asian men/White women he'd also encountered. These numbers have to mean something, don't they? He also explained that these cards were actually only a test run, a precursor to a larger, wide-scale effort he has planned for next year. And that's as far as I know. Controversial as it may be, I'm really interested in seeing how this turns out, so I hope 'RedHare Revolution' keeps me informed in the '04.


12.29.03

Just found out that Hong Kong actress/singer Anita Mui has died after a long battle with cervical cancer. I literally gasped when I read the news. She was a beautiful performer whose work I really enjoyed: Hong Kong pop diva Anita Mui dies


12.28.03

Someone sent me the following link, along with the message "how did you miss this..." Sorry man, Christmas and all. Also, I don't spend every waking moment scouring CNN... Anyway, this exercise by a University of Washington student group caused a little ruckus: Bake sales used to protest affirmative action. If I recall correctly, I've previously mentioned groups at several other schools that have held similar protests. Nice try, but the exercise is an oversimplified way of examining the issues of affirmative action. Whether you're for or against affirmative action, I think it goes without saying, it's a lot more complex than just giving out cookies and donuts. I don't know, what would be a more accurate simulation? How about having minority actually gather all the ingredients and baking the cookies, then having the white students take all the cookies away, and selling them at the given prices? Probably still not quite accurate, but it's just a thought.


12.27.03

Kind of along similar lines with the previously entry, here's an interesting New York Times article on "ethnic ambiguity" and trends in youth marketing: Generation E.A.: Ethnically Ambiguous. America's "melting pot" diversity has a new appeal?


Interesting, considering that over in Asia, cosmetic surgery is rampant: Changing Faces. This is an old article from last year... I've written about this before, but it'll probably keep coming up again in the future. It's just a huuuge, thriving industry in Asia. For many girls, getting double eyelid surgery is simply a rite of passage, like getting your ears pierced. So what's the big deal? People everywhere have always taken measures to look more beautiful—that's the way it is. But the harder question is, from what measure is a person's sense of beauty defined? Doesn't it seem like some of these surgeries are simply procedures to eliminate one's natural Asian features, and look more "western"? The article observes:





"The culturally loaded issue today is the number of Asians looking to remake themselves to look more Caucasian. It's a charge many deny, although few would argue that under the relentless bombardment of Hollywood, satellite TV, and Madison Avenue, Asia's aesthetic ideal has changed drastically ... Asians are increasingly asking their surgeons for wider eyes, longer noses and fuller breasts—features not typical of the race. To accommodate such demands, surgeons in the region have had to invent unique techniques. The No. 1 procedure by far in Asia is a form of blepharoplasty, in which a crease is created above the eye by scalpel or by needle and thread."

That's what I'm talking about. An imperial standard of "white" beauty, reinforced by global media. That's racist!


12.27.03

Rise to Honor, a new video game based on the moves and likeness of Jet Li, will be released in February.


12.27.03

Phuc is one of the new contestants for Average Joe 2: Hawaii. Yes, his name is Phuc—which you can imagine might be source of ridicule for him on the show. If you're unaware of the premise of Average Joe, basically it's like The Bachelorette, where an attractive woman must determine and choose a suitable mate from a group of eligible bachelors. Only in Average Joe, the guys are all "average," meaning they don't have the good looks associated with usual contestants on these shows... And of course, the lady has no idea what she's getting into. Anyway, go Phuc.


12.25.03

Merry Christmas. Paycheck, directed by John Woo, opened in theaters today. I saw it, and it ain't so great.


12.23.03

And here's the trailer for Walking Tall, starring The Rock. The Rock, baby!!!


12.23.03

Wah Ming Chang, an Academy Award-winning animator and artist, died Monday. He was 86. He worked on three Walt Disney films and as a Hollywood costume designer and sculptor on films such as The King and I, Cleopatra and The Time Machine, for which he won an Oscar: Academy Award-Winning Animator Chang Dies


12.23.03

This isn't really Asian American-related, but this movie's title is pretty much the greatest thing I've ever heard: Gettin' The Man's Foot Outta Your Asssss!


12.23.03

Over the weekend I caught a rerun of my favorite show, Showtime at the Apollo. Now, you normally don't see a lot of Asian performers on that show. Understandable, given that the Apollo Theater has historically been a venue for emerging African American talent. My favorite part is Apollo's Amateur Night, where would-be stars come out and attempt to win the crowd's favor. You get a range of acts, and the bad ones get seriously BOOED off the stage. Sort of like a predecessor to American Idol, but a lot rowdier.


Anyway, on this episode, I caught the national television debut of vocal percussionist Elaine Chao. (Not to be confused with U.S. Secretary of Labor Elaine Chao.) That's right, beatboxing. And it was awesome. She walks out on stage, and honestly, I don't think audience knew what to make of her. But she starts beatboxing, she's freakin' awesome, and the crowd goes CRAZY. They're stunned and loving it. At the end of the show, they determine the winner by audience applause. The crowd gets behind Elaine, but she doesn't win. However, she seriously kicked ass, and now I'm a fan.


12.23.03

The Village is the latest film from M. Night Shyamalan. It's about a small village of people surrounded by woods inhabited by "mythical creatures." Oooh, mysterious and creepy. Check out the trailer here.


12.23.03

Click2Asia's interview with Dean X. Lim, writer/director of The Yellow Truth—a scathing, asskick satire on the treatment of Asians in Hollywood. If you haven't seen this short film yet, get your booty over to Commando Films and check it out.


12.23.03

The fourteenth season of MTV's Real World will take place in San Diego. The cast includes another Korean American woman, Jamie (you can view a clip of her audition tape). Kind of looks like she's the "hot one," though she's got your typical culture clash issues. And of course, once again, NO ASIAN MEN IN SIGHT. Let's face it: there's no room for Asian men in the Real World cast. It'll mess up the balance and order of nature.


12.23.03

Kelly Hu will do a five-episode guest star stint on ABC's Threat Matrix in the coming year.


12.21.03

There's American Idol, and then there's ASIAN AMERICAN IDOL: Asian voices find a stage. Let's face it... For Asian Americans trying to break into the music industry, it's an uphill climb. It's not like there's a lack of talent. But to the mainstream, we're considered unmarketable. That's racist!


12.21.03

Tammy Lee is a contestant on The Apprentice, NBC's new reality show in which sixteen would-be asskissers vie to serve as an apprentice to business tycoon Donald Trump. I wonder why her bio describes her as "an Asian-American stockbroker," as opposed to just "a stockbroker." None of the other competitors are specified as a "White" or "Black" stockbroker/businessperson. What's up with that?


12.21.03

The Medallion, starring Jackie Chan, comes out on DVD Tuesday. It's notable because we get to see Jackie and some rare onscreen romance with the very beautiful Claire Forlani, including "extended kissy face," as someone has put it. What's the big deal about that? I don't know, how often do we see Asian men depicted as attractive and desirable by an attractive and desirable female actress in Hollywood films? Just thought that was interesting. An otherwise terrible movie...


12.20.03

Sung Hi Lee is in National Lampoon's Christmas Vacation 2: Cousin Eddie's Island Adventure, airing tonight on NBC. Set your TiVo, because it sounds like a freakin' masterpiece.


12.20.03

Producer Scott Rudin and Warner Bros. have bought the screen rights to Aloft,the upcoming novel by Chang-Rae Lee to be published next spring. It's about an aging baby boomer named Jerry Battle, who must hold together his fractured family. He's a handsome retiree who has been going through the motions since his Korean wife drowned 25 years earlier and might have committed suicide. After entrusting the family business to his son and placing his father in an assisted living home, he's content to spend his days flying his small plane. But his plans are grounded into reality when his daughter reveals she's pregnant and has cancer. Interesting...


12.20.03

Bai Ling is in Sky Captain and the World of Tomorrow as "Mysterious Woman." Opens Summer 2004.


12.19.03

Sony Pictures Classics has acquired film rights for a Chinese period drama, The White Countess, based on an original screenplay by Kazuo Ishiguro. Set in Shanghai in the late 1930s, the story chronicles the relationship between a disillusioned former U.S. diplomat who lost his sight several years earlier, and a young refugee White Russian countess reduced to a sordid life in the city's bars, working as a taxi driver and occasional prostitute to support members of her late husband's aristocratic family. The film is set to star Natasha Richardson, Ralph Fiennes and Vanessa Redgrave.


12.19.03

Nearly all Bay Area legislators voted in favor of bills and resolutions important to Asian-Americans this year, according to a non-partisan survey released by Asian Americans for Civil Rights and Equality: Asians report on lawmakers. I am glad to be a citizen of the San Francisco Bay Area.


12.19.03

For those arriving a little late on the Jin bandwagon, check out this highlight/pseudo-documentary clip (titled "EPK"), which summarizes the rapper's now-famous seven-week reign on 106 & Park's "Freestyle Friday," eventually landing himself in the show's Hall of Fame. Better yet, download clips and check out the entire run yourself. The battles are pretty impressive.


12.19.03

Trailer for Torque, the directorial feature film debut for acclaimed music video auteur Joseph Kahn. Fastest and the Furiousest. Will Yun Lee is in the cast, and I bet you he rides a motorcycle.


12.19.03

Filmmaker Michael Kang gets a brief write-up in the latest issue of The Fader (page 40) about his current project, The Motel. Some nice representation for Asian America. Here's a scan of the article for ya: NO KARATE KIDS


12.18.03

Wen Yann Shih is in Stuck on You as May, Matt Damon's love interest. Damon plays Bob, one half of co-joined twins. Oh, the hilarity. It's a Farrelly Brothers movie, so you can imagine the kind of jokes they go for. However, I haven't been hearing much in the way of grossly offensive stereotypes... just minor touches to the character that reinforce her "Chinese-ness." Guess it would be too much to ask for a three-dimensional character.


Oh, and Roger Fan is also in the movie as 'Executive #1.'


12.18.03

Golden Globe nominations were announced today. Some of the notable nods include Bend It Like Beckham for Best Motion Picture (Musical or Comedy), Ben Kingsley in House of Sand and Fog for Best Performance by an Actor in a Motion Picture (Drama), and Ken Watanabe in The Last Samurai for Best Performance by an Actor in a Supporting Role in a Motion Picture. Whoo.


12.18.03

The Advisory Commission on Asian Americans and Pacific Islanders was established in 1999 by President Bill Clinton within the Department of Health and Human Services, with the purpose of improving the quality of life for Asian Americans and Pacific Islanders underserved by federal programs and services. President George W. extended the Executive Order, but this extension expired over five months ago, in June 2003. The DNC has created a petition urging the President to renew the Executive Order, and respond to the distinctive needs of the AAPI community. You can sign the petition here: Take Action on the White House APIA Advisory Commission


12.18.03

An interesting thing about Japanese Story—it bears a peculiarly strong resemblance to the 2000 film The Goddess of 1967, directed by Clara Law. In that movie, a Japanese man and an Australian woman must embark on road trip in the Outback. Tentative romance ensues. Eh?


12.18.03

High hopes for Chin-hui Tsao, the first Taiwanese pitcher in the Major Leagues: Tsao named Rockies #1 prospect by Baseball America


12.18.03

Whoa. An emotional editorial about a sensitive, hot-button topic—the title pretty much sums it up:Stop sending babies abroad


12.18.03

Like many immigrant Asian families in the U.S., my parents once owned and operated a small business. And while it wasn't situated in a particularly bad neighborhood, nor did we ever experience any unsafe and dangerous conditions, I can still empathize with the plight of these mom-and-pop stores. It's also why few things anger me more than violence against Asian-owned small businesses. It's just a sore spot for me: Asian community 'scared every day' since store slaying


12.18.03

While U.S. corporations are creating and touting their diversity programs, professional women of Asian descent say their needs in the workplace are often overlooked and that these initiatives do not always include them as much as other women of color: Diversity Efforts Often Ignore Asian Women


12.17.03

Here's an Interview with Toni Collette, star of Japanese Story. The movie's about an Australian geologist (Collette) who falls into an affiar with a Japanese client (Gotaro Tsunashima). And, according to the official website, "against the background of this elemental Australian landscape, these two strangers journey further and further into the West Australian desert, leaving more and more of what they know about each other and themselves behind." Ooh, it's one of those stories.


What's with all the Japan-related movies this year? Lost in Translation, Kill Bill, The Last Samurai and now Japanese Story, which screened at the Vancouver International Film Festival... At least this film's got a different kind of romantic dynamic going on. However, I've read impressions that the Japanese character is rendered as sexist and naive, and his cultural habits are a source of amusement. But again, I have to see it for myself. I just figured I'd put it out there into your consciousness, in case anyone's interested in this movie.


12.17.03

Greg Pak's award-winning film Robot Stories will begin a city-by-city theatrical run on February 13 in New York City and Washington, DC on February 20. The cities scheduled thus far include:


Friday, February 13 - New York City

Cinema Village, 22 E. 12th St., New York, NY

http://www.cinemavillage.com/


Friday, February 20 - Washington, DC

AFI Silver, 8633 Colesville Road, Silver Spring, MD

http://silver.afi.com/


Billed as "science fiction from the heart," Robot Stories stars Tamlyn Tomita, Sab Shimono, and Wai Ching Ho in four stories in which utterly human characters struggle to connect in a world of robot babies and android office workers. The film has won twenty two awards on the festival circuit and was praised by NPR for its "tremendous emotional impact."


The film will expand to San Francisco and Los Angeles in March and other cities in the following weeks. Check out the trailer to get a look... The continued theatrical success of this film will probably depend a lot on word-of-mouth. They need a ton of help promoting the film, so spread the word, watch the movie, bring a friend. For all info on the film, production, publicity and release, visit the Robot Stories website at www.robotstories.net


12.17.03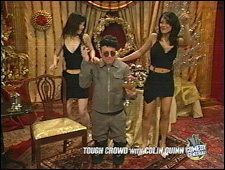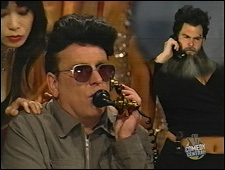 Talking about the December 15 episode of Tough Crowd with Colin Quinn on Comedy Central. Quinn dresses up as Kim Jong Il in his sketch—titled "Kim Jong's Christmas Party"—ridiculing America's current non-white ethnic enemies. Kim interacts with party guest "Bin Laden" before taking a phone call from the now captured/bearded "Hussein." All these characters were played by WHITE ACTORS with accents and stereotypical physical features. Also in the background, two Asian actresses cast as party minglers (very Cheryl Rave-esque), who were pretty much there to dance around provocatively throughout the entire sketch.

Again, irresponsible racial humor for a cheap laugh. Another example of dominantly white television writers pretty much going for whatever they think they can get away with when it comes to racial/ethnic humor, with no real regard for the groups they choose to denegrate. I will be the first to admit: the characters being lampooned here really are evil, crazy people. Still, there's no denying that there is a power differential at play here—these portrayals can only be detrimental reinforcement for uninformed attitudes about Arabs and Asians here in America. But hey, the people at the top could really care less of sensitivity and tolerance. It's called cultural apathy. That's racist! (Thanks, Wyn)


12.17.03

Protestors targeted the National Air and Space Museum's new building and display of the Enola Gay, saying the bombing of Hiroshima should have been described better. A plaque in front of the bomber describes it as "the most sophisticated propeller-driven bomber of World War II" and notes that it dropped the bomb, but doesn't really say a whole lot more. How about acknowledging the fact that it unleashed an assload of death on an entire city? Among the protestors were six survivors of the Hiroshima bombing: A Big Museum Opens, to Jeers as Well as Cheers


12.17.03

An example of cross-cultural exchange apparently done right: Apaches Praise 'The Missing' for Accuracy. Now why can't Hollywood take a cue from such efforts and try a little harder to respect Asian culture as well?


12.17.03

According to Variety, U.S.-based execs are scouting for content for ImaginAsian TV, the first 24-hour network for the Asian-American community. Forgive me if I'm a little confused... I can recall news of one or two OTHER endeavors in the works, purportedly also being the "first" of such Asian American themed networks. I guess we'll seeing what's really up in 2004. Call me when the dust clears.


12.17.03

Here's an ESPN.com article casting some doubt on Kaz Matsui's potential: Mets taking big chance on Matsui. A look at his stats suggests that all the hype may definitely be a little premature...


12.17.03

Someone I've been reading a lot about is The Last Samurai's Ken Watanabe—hands down, his performance is considered one of the film's high points. He gets an article in this week's Entertainment Weekly, and was just nominated for Best Supporting Actor in Critics' Choice Awards, by the Broadcast Film Critics Association...


12.17.03

I've been hearing about a commercial for Enzyte, a male enhancement pill. And it sounds like it boils down to painfully offensive metaphor... The commercial involves a group of Japanese businessmen at a Japanese restaurant (complete with geisha-costumed hostess). The businessmen sit down with a white dude at the end of the negotiating table. The diminutive Japanese guys beging bargain and make offers, while the white guy doesn't say a word and simply beams back with an obnoxios smile. The Japanese businessmen make remarks among themselves to the effect of "He's a firm negotiator," and "Stiff competition" (through translated subtitles). They eventually concede to this remarkable negotiating tactic, offering five times more than their initial bid. Wimpy Japanese businessmen. If that doesn't convey the commercial's obvious racial/sexual overtones, before the commercial ends, the geisha hostess peeks into the meeting room and leers at the "potent" white guy with an approving look. What? Talk about cheap, offensive humor at the expense of Asians. It's not even subtle! This is the kind of crap advertisers continually get away with. That's racist!


12.16.03

Many, many apologies, but I still have not yet seen The Last Samurai. I know I said I'd maintain radio silence about the film for the time being, but I have to mention this Samurai-related item... The whole deal regarding the premiere party casting call for "beautiful Asian women" has actually received some buzz around the industry, getting a brief write-up in the latest issue of Entertainment Weekly:






CASTING CALL

Asian Americans are up in arms over a Last Samurai misstep



And the winner of this week's sensitivity-training voucher is... Warner Bros.! Or rather, now-former WB Pictures consultant Cheryl Rave, whose casting call for the Dec. 1 Los Angeles premiere of The Last Samurai sent some Asian Americans into a rage. Posted on a UCLA website, the ad sought "beautiful Asian women" willing to dress up and "mingle in character...to create the ambiance of ancient Japan, circa 1870s" for no pay. "It was demeaning," says UCLA grad student Sarah Park, 23, one of the first to send Rave an irate response. (At least one professor offered extra credit to students who sent articulate replies.) " 'We're going to dress you up in costumes that we think represent Japan,' " recounts Park. "And since when is 1870 considered ancient?"



By the time word spread to Internet message boards, Rave (who could not be reached for comment) had pulled the ad and e-mailed apologies in which she stressed her status as a freelancer—a title she lost shortly thereafter when WB fired her. "She did this completely on her own," says a studio rep. "This wasn't something that anybody here endorsed. It was just one of those whoops! kind of things." But to John Tateishi of the Japanese American Citizens' League, it's much more than that. "It's offensive because it plays up this exotic, beautiful-Asian-woman mystique. The way Warner Bros. can rectify the damage is take Asian-American actors seriously. Start casting them in substantial roles, rather than as stereotypical characters." The studio feels it has. Says the rep: "Warner Bros. Pictures continues to welcome all ethnic and cultural groups as an enrichment to the art and entertainment offered by movies." —Missy Schwartz


I've also scanned a copy of the article here. And I've been told by "someone-who-knows-someone" that Warner Bros. employees have been privately circulating one of the casting call protest-emails as an inter-office memo. That's right. It's crazy what makes it way to the top. It gives legitimacy to such efforts... Talk about an angry network! Speak up, and people will hear you.


12.16.03

Katsuo Matsui is ESPN The Magazine's NEXT athlete. The issue also has a couple of other articles saying that more Asian/Asian American athletes are "Next."


12.15.03

An issue that's been simmering on internet buzz sites for a few years has been Miramax's terrible treatment of Asian films... Basically, the company has been buying up rights for films overseas, editing and dubbing the crap out of them and distributing them in U.S. Also, they've sat on the releases of anticipated movies like Hero and Shaolin Soccer... Various efforts have come together in protest of Disney/Miramax's practices, to little avail. Most recently, one of the sites I frequent, KungFuCinema.com received a 'cease-and-desist' letter from Miramax, barring them from selling any copies of Hero, already available on DVD in Asia (which is ridiculous, since the site isn't even in the business of selling DVDs): Studio Warns Kung Fu Site. Why can't Miramax treat these films with some respect? It boils down to a simple factor: money. Even after the wild success of a film like Crouching Tiger Hidden Dragon, they can't seem to trust that there is a domestic audience for quality Asian films. But they're willing to let these films simply sit on the shelf forever. Let the people have what they want!!! Eh, whatever. Miramax can shove it. I've got my copy of Hero.


12.15.03

The USA network has been running promos for their upcoming miniseries based on the film Traffic. The commercials indicate the series will deal with the illegal trafficking of drugs and human beings. And apparently, the human beings in question are CHINESE IMMIGRANTS. Yep, there is a scene where a bunch of Chinese immigrants are coming out cargo cantainers. More of the same, more of the same...


I should also mention Nelson Lee is in the series cast as Ronny Cho, one of those ubiquitous Chinese underworld figures. Traffic: The Miniseries premieres January 26.


12.15.03

Forgot to mention, Daniel Dae Kim showed up on Miss Match last Friday as an attorney. Daniel Dae Kim rules. He's also got a role in the upcoming Spider-Man 2, which dropped its online trailer today.


12.14.03

Chinese American actor Byron Mann will play 'Wesley' in the upcoming Catwoman movie starring Halle Berry, currently filming. That's about all I know.


12.14.03

Chink's Steaks is an actual restaurant in Philadelphia, apparently named after the late founder's nickname. Who the hell has the nickname 'Chink'? Someone should tell them that ain't cool. That's racist!


12.14.03

Here's a clip from Jet Li's latest project, Danny the Dog. Looks like he gets an opportunity to show off his acting chops (along with some asskicking, for sure). Script for the movie is kinda on the downlow, but here are some details: http://www.comingsoon.net/movies/d/dannythedog.php


12.14.03

Adriel Luis is a poet and student at UC Davis. Check out this website he created for a final project: Stop Masturbating In My Culture: The Fetishization of Asian Womyn in Amerikan War Flicks. Nice work. CHECK IT OUT.


12.12.03

Some TV statistics... Television's evening newscasts offer scant and stereotypical coverage of Latinos, focusing mostly on crime and immigration, according to a study released Thursday. Nothing new, really, but still worth noting: Study: TV Night Newscasts Slight Latinos


Also, the number of minority writers in primetime television increased last year. This is amid signs that they are moving beyond the traditional stronghold of ethnic sitcoms: Prime Time for Minority Scribes. But how many Asian American sitcom writers are out there?


12.11.03

In case anyone's interested, I'll be a guest on "Action Ranger Timmy's Entertainment Review" on KDVS 90.3 FM in Davis, CA. Tomorrow, 8:30-9:30am. I don't really know what we'll be talking about, but it should be fun. Tune in, if you're up and in the area.


12.11.03

This picture is pretty funny. Bear in mind, there's snow on the ground, and it must be freezing out. Ain't like here on the West side... Anyway, these cold-braving Harvard ladies are part of a peaceful protest against China's policies on human rights, Taiwan and Tibet. Chinese Premier Wen Jiabao delivered a speech at Harvard Business School yesterday: China's troubles come calling


12.11.03

Details is launching a spin-off publication called Vitals, a men's shopping magazine, sort of like Lucky is for women. They have appointed Joe Zee as the editor-in-chief. He's been fashion director of W magazine since 1999: To Cargo may we now add Vitals


12.10.03

News from the University of Michigan... Student leaders of Asian American organizations on campus have reported receiving harrassing phone calls since Friday from a man asking questions about prevalent stereotypes of Asians. This guy calls them up and asks stuff wanting to know "why Asian men are short and skinny" and "why Asian men play only martial arts roles in movies." Why does it seem like this kind of ignorance occurs so often at institutions of higher learning? Read more here: Harassing phone calls reach Asian student community. That's racist!


12.10.03

Kazuo Matsui signs with the New York Mets: Mets and Matsui All Smiles as He Arrives in New York


12.10.03

I'm reluctant to share this, because it's a little embarrassing... Check out EW Woman, a style/culture magazine for Asian American women. I am featured as the December issue's "EW Man." Yeah, yeah, I know, it's goofy. The interview turned out okay, though kind of awkward. I really haven't done much of this sort of thing, so my responses could use a little smoothin' out... Ah, enough excuses. It was a good experience.


12.10.03

So maybe you've seen that AT&T commercial, with an Asian Woman/White Man couple whose relationship isn't going so well... he leaves her that morning, sad and blue. She's sitting in an office meeting, feeling down because she and her man are growing distant. He suddenly bursts into the room, holding up a sign, "I'M SORRY." Actually, he doesn't—it's just a text message on her mobile phone. But I guess that's supposed to be the modern equivalent of a sentimental gesture. Anyway, Asian Woman/White Man have reconciled, and all is forgiven, through the power of AT&T Text Messaging. I don't know, is it too much to ask for once to see an Asian man and woman share a cheesy moment together on a stinkin' commercial?


12.10.03

Jin's video for "Learn Chinese" is a Pre-RL on MTV TRL Wednesday, December 10th. (That's today!) You can vote for it at www.mtv.com/onair/trl/vote/. You can also vote for it on BET at www.bet.com/peoplepoll/1,,138,00.html


12.10.03

Sign the petition addressed to Lifeway Publishers and the Southern Baptist Convention, to Stop Rickshaw Rally


12.10.03

This isn't Asian-related, but it's certainly something we've seen before, with the Viet Cong game... Take-Two Interactive Software Inc. announced yesterday that it would make changes to Grand Theft Auto: Vice City, provoked by angry protests from Haitian immigrants and city officials. The game features dialogue at one point that tells players to "kill all the Haitians." That's racist! So they're changing it: Video Game Maker to Drop 'Kill Haitians' Line


12.10.03

BBC Films reports that Warner Bros. is apparently looking for twin Asian girls to cast in the next Harry Potter movie: Casting Call for Harry Potter 4 Twins!. Now, it's been a little while since I read Harry Potter and the Goblet of Fire, but I imagine they're talking about Parvati and Padma Patil. 'Cause they're sure not talking about the Weasley twins.


12.10.03

Perennial television guest actor Tzi Ma showed up on Sunday's episode of The Practice, and it wasn't anything to be proud of. He played a client with injuries involving an exploding toilet. Ass burns. He had this heavy accent, and one of the ongoing jokes was how he kept mispronouncing "malpractice." Adding insult to injury, he gets laughed at while he testifies—by his own attorney, Tara (played by the actress Rhona Mitra, who, by the way, I understand is half-Indian. And also who, by the way, is smokin' gorgeous). Ma's character is thoroughly ridiculed. Like I said, it wasn't pretty. That's racist!


12.10.03

Gaaaaah. I don't care what you're trying to say; there are other words you can use to produce the same effect: Big New Chink Found In Windows Messenger Service. That's racist!


12.09.03

WHATTHEHELL. Somebody, please, kick someone's ass about this. Britney, you're an idiot: PINK LADY BRITNEY'S A SEOUL SINGER. I can't explain, it just anger me.


12.09.03

Another article on A&F, by Joan Ryan. Sort of a follow-up to Sunday's 60 Minutes story: A&F's image problem: Racism. The last line is great.


12.09.03

Check out the the video for Jin's "Learn Chinese," available at www.jinsite.com. Can't say I'm super impressed... You'd have hoped Jin would go the unconventional route, but the video offers a lot of stereotypical "Asian" imagery. Kind of silly, but hey, it's a music video for MTV/BET set. What can you do? Speaking of which, the video will premiere on MTV's Direct Effects on Wednesday, December 10.


12.08.03

From now on, every time I have to bring up racist crap from David and Goliath, I am going to make a plug for awesome t-shirts over at Blacklava—clothing for a new state of mind. Got it?


12.08.03

An update on the James Yee case: Hearing Starts for Muslim Army Chaplain. Yee is charged with disobeying an order by taking home classified material from the prison and improperly transporting it. He also faces charges of making a false statement, storing pornography on a government computer and adultery—a criminal offense under military law.


12.08.03

LA Times article on the recent demise (and possible online rebirth?) of Yolk Magazine: Pop Culture Asian American Magazine Falters


12.08.03

It's 2003, and a major news outlet still cluelessly uses the term "Chinaman" in a situation that could easily have been avoided: Yahoo! News. That's racist!


12.07.03

Been busy hell, and didn't have the time to watch The Last Samurai this weekend... Some folks have actually expressed disappointment that I wasn't able to catch it. Dude, I'm sorry. I encourage you to see the movie and form your own opinions. People have been writing in left and right about the movie—fans and haters alike. I gotsta see this frickin' movie for myself! Okay, I will exercise restraint, and reserve further judgment until I watch the dang thing. 'Till then, no more comments about white man swinging the samurai sword. Promise.


12.07.03

60 Minutes will be airing a report tonight on our favorite clothing chain, Abercrombie & Fitch, about the company's unfair hiring (and questionable marketing) practices. The promos mention that they had to recall their holiday catalog because it was too "racy." It's reasonable to assume the story will also mention the racist t-shirt line from 2002: The Look of Abercrombie & Fitch


12.06.03

Sometimes I think, wow, there are a lot of idiots out there:





FROM: "charles henson"

DATE: Sat, 06 Dec 2003 12:57:56 -0500

TO: angryminsoo@angryasianman.com

SUBJECT: your women



how do you feel about, us white guys taking all of your women.


Say, you haven't seen Last Samurai, have you?


12.06.03

The Baptist Standard picks up on the "Rickshaw Rally" protest campaign: Asians critical of LifeWay's
'Rickshaw Rally' VBS theme


12.06.03

Not a big fan of Disney, but meet John S. Chen: Disney Elects Sybase Chief to Its Board


12.06.03

As we all know, Hollywood has not been kind to Asian men. That's racist! Here's a Straight.com article on emerging Asian Canadian actors trying to break out: No More Second Banana


12.05.03

Okay. The Last Samurai, starring Tom Cruise, opens in theaters today. What can I say about this movie? I guess at this point, not too much. I'd prefer to reserve judgment until I actually see the movie for myself.


Yeah, right.


Honestly, how can I??? Given what I've seen and heard in trailers, reviews and word of mouth, how can I really go into this movie objectively? I'm sorry, there's just no way.


My gut reaction, from seeing one trailer: White man goes Japan to teach them a thing or two. But what do you know, it's actually the SAMURAI who teach HIM a thing or two. Of course, eventually white man teaches the samurai a thing or two about teaching him a thing or two. Oh, and along the way white man gets busy with a Japanese woman, and kills a bunch of Japanese guys with his newly acquired samurai sword skillz. Shogun meets Dances With Wolves, Oscar nomination, please?


See, I can gather all that just from watching the trailer! But here's a simple overview of the film, courtesy of Paolo, someone who's actually seen the film:


WARNING: THE FOLLOWING PLOT SUMMARY CONTAINS SPOILERS





1) WHITE MAN (Cruise, playing a general) slaughters a village of innocent "redmen", then, feeling guilty about his actions, looks to atone for his sins in a foreign land,



2) namely Japan. Taken captive by the samurai, he learns the Way of the Warrior, & decides he wants to be one of them. Then,



3) WM gets to live in the house of the family of the samurai leader he'd killed in battle prior to his captivity, but for some magical reason the children of the slain man take a quick liking to him. Not only that,



4) but the slain man's widow finds herself attracted to WM. To add insult to the husband's memory, the widow asks WM to wear her hubby's armor in the final climactic battle between the samurai & the emperor's
army. Then,



5) WM is not only able to regain his honor on the field of
battle, but also gets to enjoy the spectacle of the emperor's army falling tearfully on their knees in reverence of his heroic actions (actual scene, y'all). Oh, & in case I forget--WM is the ONLY survivor on the samurai side. Then,



6) he is able to sway the emperor away from his most trusted advisor, & to assist in the emperor's decision over the future of the land. Then, looking forward to a life of peace in the country, WM retires



7) to the village of the (now obliterated) samurai army, where he finally gets to shack up with the widow, who is overcome with joy at his return.


Thanks, Paolo. Sorry if that ruins it for anyone... but at least you know what the hell you're getting into. Check out this more in-depth review by David Poland at moviecitynews.com, who takes major issue with the movie's evil subtext and bastardization of Asian culture.


Mainstream critics seem to be split over the movie. Many are praising the film as a powerful, poignant epic, while others are calling it a pandering, condescending, phony mess. And it's not going unnoticed that indeed, this is just another movie depicting a white American hero in a backward, non-white culture:





"...the latest in that oddly neurotic genre in which an American hero validates himself by becoming an alien culture's great white hope." - Ty Burr, Boston Globe



"Movies set in Japanese history should not be about handsome white people. It just feels wrong and, in the end, leaves in your mouth the taste of desecration." - Stephen Hunter, Washington Post

The thought of this movie garnering Oscar nominations makes you want to cry, doesn't it? Damn. Anyway, I'm going to try to watch it this weekend, and I'll offer my own observations on the film when I get the chance. Still, I can offer one comment, even before watching it: That's racist!


12.04.03

Check out the trailer for Robot Stories. Greg Pak and co. are cutting it, and would appreciate any feedback. Check it out and post your comments.


12.04.03

Received a press release today about WorldAsia TV, a company with aims to becoming the first U.S. network to offer English-language, Asian-themed programming. You know, people have been talking about something like this forever... Can it be, that it's finally going to happen? And will it be any good? We will see in 2004.


12.04.03

Daily Variety article on Justin Lin's upcoming projects:





LIN TAKES TO THE "STREET" FOR MGM



Pic follows an NBA team filling roster with streetballers



By CLAUDE BRODESSER



Helmer Justin Lin, whose tyro debut, "Better Luck Tomorrow" was a Sundance fave in 2002, is in negotiations to helm and co-write the basketball comedy "Street" at MGM Pictures.



Pic follows an NBA expansion team facing slim pickings in the draft, retiring players and a restrictive salary cap. The team elects to staff its bench by hitting urban blacktop streetball courts, with comedic results.



"Street" is being produced by former MGM production prexy Alex Gartner, who is producing the sequel to "Barbershop" and just exec produced the Denzel Washington starrer "Out of Time."



Pic is being exec produced by management and production shingle Benderspink.



Lin recently also jumped into TV, teaming up with Aaron Spelling for an hourlong drama set up at the WB network. He -- along with his "Tomorrow" writing partners Ernesto Foronda and Fabian Marquez -- are writing and will exec produce the Spelling Television project, which has been given a script commitment and is being targeted for next fall.



Should a deal be reached in the next few days, Marquez and Foronda are expected to co-write "Street" with Lin.



Lin, who is also attached to helm an adaptation of the Brad Meltzer legal thriller "The Tenth Justice" at 20th Century Fox, is being repped in the MGM negotiations by CAA.


Future sounds bright... Not only that, but Better Luck Tomorrow has been nominated for a 2004 Independent Spirit Award (sort of like the indie Academy Awards). It's up for the John Cassavetes Award, given to the best feature made for under $500,000. Exciting, ain't it?


12.04.03

Another ad related item... I'm told that there's a huge Jockey (yes, underwear) billboard featuring an Asian couple in the middle of Time Square (across from the MTV building). It's apparently the biggest ad in the square. Just for curiosity's sake, if someone in NYC could snap a photo and send it my way, I'd appreciate it greatly...


12.04.03

More crap comin' your way: Ghettopoly is apparently back in business. Just in time for the holiday season.


And while we're on the topic of offensive products, David and Goliath has expanded its racist t-shirt line again:


Mr. Lee's Bonsai Trees

Mista Wong's Hong Kong School of Ping Pong

Panda Burgers

Long Dong Lip Balm

Yum Yum Thai and Hymies Deli

Pepe's Taco Shack

Guacamole Jack


I grow tired. Are there really people out there that buy this crap? I wouldn't bother stirring up much trouble over this—it's probably exactly what Todd (the guy behind D&G) wants. He's like a little kid crying out for attention. Please. That's racist!


12.04.03

A Filipino teen was beaten to death last week in Vancouver, allegedly by a group of Indo-Canadian teens. And the slaying was apparently racially motivated: Tips pour in as Vancouver police investigate slaying. WHY, you stupid people?


12.04.03

Check out the full lineup of films at the 2004 Sundance Film Festival. It includes a handful of films from APA talent, as well as a large selection of international selections from Asia.


12.03.03

The Anti-Defamation League, Japanese American Citizens League and other civil rights groups filed a discrimination complaint trying to get Jefferson County in southeast Texas to remove a racial slur from its city maps. The slur? "Jap." As in "Jap Road." Yes, it's a real three-mile stretch of road in Fannett, TX. It's been around for about 100 years, and was actually named to honor a Japanese family who moved to the area and helped introduce the region to rice farming. Of course, in recent years, the meaning of "Jap" has changed to become a racial slur, and having such a street name is undoubtedly problematic. (That's racist!) Thus, a complaint has been filed with the U.S. Department of Transportation and the
Department of Housing and Urban Development: Groups sue to change name of 'Jap Road'


12.03.03

Commercial sightings... There's this hilarous Sprint PCS commercial introducing night time minutes starting at 7:00pm. The weird Sprint trenchcoat guy explains this to a bunch of guys in a frat house, and they all go crazy. This shrieking Asian guy is prominently featured in the front. It's pretty amusing, but I suppose it's one of those things you have to see to understand.


Lucy Liu shows up in a SBC Yahoo! DSL commercial. She doesn't really say or do anything, but you see her sitting there on a yoga mat. You gotta wonder how much she got paid to do that one...


And if I'm not mistaken, I think I saw Archie Kao in commercials for both McDonald's and Best Buy. The funny thing is, I saw both commercials not only in the same evening, but during the same show, in the same commercial break. It was a bit confusing, but I'm pretty sure it was him.


12.02.03

If you've been watching MTV, you might've seen promos for their upcoming presentation of Volcano High. Basically MTV took the 2001 Korean action film and re-worked it with a hip hop angle. It's been edited and dubbed with a hip hop soundtrack, and features to voices of Snoop Dogg, Andre 3000 and Method Man. Personally, I think it sounds pretty crappy. It premieres December 21 on MTV. Hooray.


12.02.03

Support Asian American writers! The Sixth Annual Asian American Literary Awards, presented by the AAWW. Monday, December 8 in New York.


12.01.03

The 2004 Sundance Film Festival has announced this year's competition lineup of films. Jessica Yu's In the Realms of the Unreal and Ramona Diaz's Imelda are among the festival's entries. Also, Greg Pak is the screenwriter for MVP, in the "American Spectrum" category.


12.01.03

Asian gangsters, thugs and clubs? No. This guy claims that life his behind him: A reformed thug?. But the police are skeptical...


12.01.03

This hotel's Asian theme fascination leaves me uneasy... "We1re going to have geisha girls as greeters and a twelve-foot dragon..." Oh man. Mandarin Madness! Geisha-girl bar mitzvahs?! Time Warner Center vies to be party central. That's racist!


12.01.03

Wang Zhizhi signs on with the Heat: Miami Heat sign center Wang Zhizhi