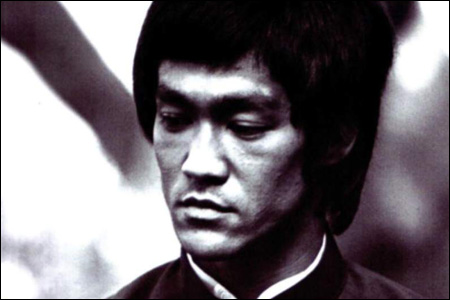 Today is Bruce Lee's birthday. He would have been 67:
Remember Bruce Lee
. What can I say, except that his legacy continues to have a profound impact on the culture at large, as well as my own life and work. He's a legend.
At the University of Washington, a group of students have started a campaign to commemorate the school's most famous student. Bruce attended the university briefly in the early 1960s, studying drama and philosophy before starting a martial arts studio in Seattle.
Now, students at UW are collecting signatures on a petition to administrators to officially recognize the man they think could be the school's best-known minority student:
UW students want Bruce Lee memorialized on campus
. The effort is actually part of a project for a class,
"Bruce Lee Dedication"
:
The students collecting signatures are enrolled in a class that explores methods of activism -- specifically related to Bruce Lee's legacy. The UW's Comparative History of Ideas Department coordinates the class, which students help lead.

Students say they're trying to do something more important than honoring Lee. They're trying to memorialize what he represents: Eastern philosophies and an Asian face in a predominantly white, European culture.

And some students say institutionalized racism is the only reason there isn't already a campus memorial to Lee, who died in 1973 during what may have been a fatal reaction to a painkiller.

"There has been an apathy amongst the community, including the student body, including the faculty and the administration," said Jamil Suleman, a former UW student who facilitates the class. "They talk about these fluffy issues like diversity, but they don't talk about the real issue, which is racism."
More here:
CHID seeks to honor Bruce Lee
. Now, I went to a school with some relatively famous alumni. But none of those individuals are as deserving of a statue or memorial as Bruce Lee. How cool would that be? You could publish photos of the statue in UW's brochure. Hell, put it on the cover! Enrollment would jump, I tell you. Why? Because Bruce Lee is badass. In fact, the organizers should just put that on the top of their petition:
"Bruce Lee is badass."
That's all you need. Have students sign in, then present it to the administration. There could not be a more compelling argument. Recognize Bruce!