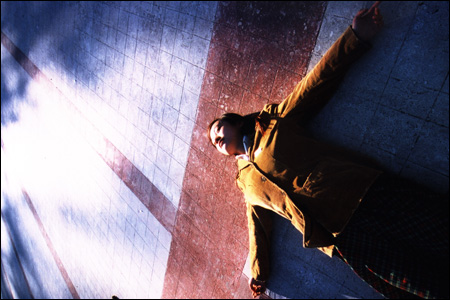 Lou Ye's epic melodrama
Summer Palace
is now out on DVD from Palm Pictures. It's an amazing, breathtaking film. I was familiar with some of Lou Ye's previous work, like
Purple Butterfly
, which I could only describe as
intense
.
Summer Palace
packs a similar punch, evoking a powerful, specific sense of time and place.
It's a love story set during the social and political turmoil of Beijing in the late 1980s, following the lives of University students exploring newfound liberties, political activism and sexuality identity. It's the story of an awakening generation. Hao Lei plays Yu Hong, a rebellious young woman from a small town who embarks on a tumultuous love/hate affair, searching and struggling for meaning in modern China. She's brilliant.
Palm is marketing the film as "BANNED BY THE CHINESE GOVERNMENT," which is true -- sex and politics, you know -- though what hasn't the Chinese government banned lately? When the film played to rousing critical acclaim at the Cannes Film Festival, state censors slapped Lou Ye with a five-year ban on making films in his home country. That sucks, considering what a talented cinematic voice he possesses.
Summer Palace
is actually inspired by Lou Ye's own college years at Beijing University during the 1989 Tiananmen Square upheaval.
Anyway, if epic, politically-charged human dramas are your thing, check out
Summer Palace
, now on DVD. Learn more about the film
here
.