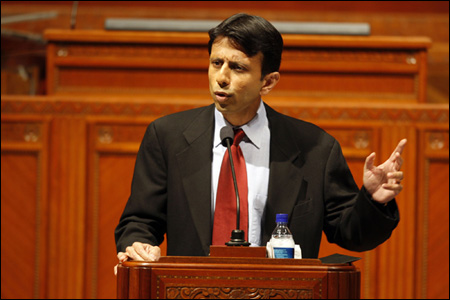 There's been a great deal of speculation on who John McCain, the presumptive Republican presidential nominee, will pick as his running mate for November's general election. After a whole lot of guessing, rumors and denial from all over, it appears that Louisiana governor Bobby Jindal has indeed made the short list of possible candidates.
According to the
New York Times
, McCain will be meeting this weekend at his Arizona ranch with at least three potential candidates: Jindal, Florida Governor Charlie Crist, and former presidential hopeful Mitt Romney:
In US campaign, VP chatter swells
. More here:
Jindal, McCain's probable running mate
. The possibility of an Indian American vice president just got a little more real.
Sepia Mutiny
called it months ago.
No doubt, Jindal would offer the right kind of youthful balance McCain's ticket needs. At 36, he's the youngest current governor in the United States, as well as the first elected Indian American governor in U.S. history. He's widely viewed as a rising Republican star... and one of the party's very few top elected officials who is not white. Man, if this indeed does happen, it's going to make things pretty damn crazy come fall.
Jindal, who was just elected governor of Louisiana last fall, has consistently said he's not interested in the job just yet. Just last month, he appeared on
The Tonight Show
, where he once again dismissed the idea. He says he intends to be governor for four years and run for a second term... but he hasn't definitively said that he'd refuse McCain if the opportunity arose. Plans change. And here were are, with Jindal making weekend plans in Arizona.
Still, even now, Jindal continues to play down speculation that he's a serious contender for VP:
Jindal trying to quiet talk of McCain's No. 2
. Let's be real. You dangle this opportunity in front of a young, up-and-coming politician, and he's going to give it a long, hard look. Either way, make no mistake, this man is the future of the Republican party.