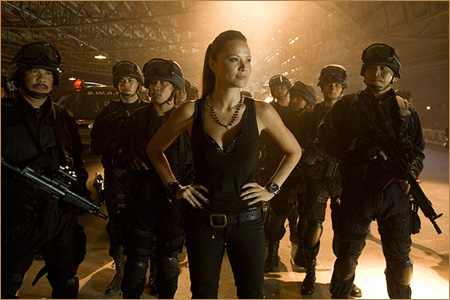 The upcoming live-action
Street Fighter
movie, based on the popular video game, has an
official blog
. As I've said before, while
Street Fighter: The Legend of Chun Li
has considerable potential to be an absolute crazy disaster, I have to admit, I'm gleefully curious about how it'll turn out. It's going to be ridiculous. Can this beat the disastrous 1994
Street Fighter
movie starring Jean-Claude Van Damme?
At the helm, you've got Andrzej Bartkowiak, director of such masterpieces as
Romeo Must Die
and
Cradle 2 the Grave
. The cast includes Kristin Kreuk as Chun Li, Edmund Chen, Josie Ho, Pei Pei Cheng, and that guy from Black Eyed Peas. No, not the Filipino guy—the weird-looking dude.
That's a photo of Moon Bloodgood (who, by the way, is not only gorgeous, but has the coolest name ever) above as Det. Maya Sunee of Bangkok Homicide (a new character to the
Street Fighter
universe). Can't wait to see that first photo of Chun Li...
In other Moon Bloodgood news, it was reported last month that will play the female lead in the upcoming fourth installment of the
Terminator
series:
Bloodgood lined up for "Terminator" sequel
. Yes, they're making a fourth one. She'll be playing "a no-nonsense and battle-hardened member of the resistance who is carrying a lot of guilt over surviving the nuclear holocaust."
Terminator Salvation: The Future Begins
is set for a summer 2009 release from Warner Brothers.