Greetings! This weekend, I made the trek to San Diego to attend Comic-Con, where thousands upon thousands of fellow fanboys and fangirls gathered to worship the forces of pop culture geekness. This was my first time at Comic-Con, and it was truly an overwhelming, eye-opening experience.
This was madness. This was Comic-Con...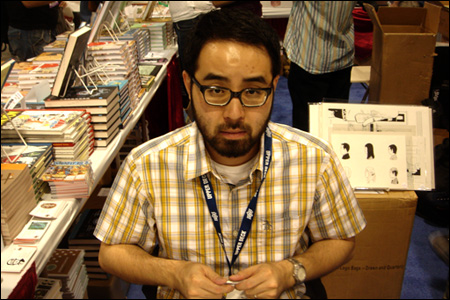 This is artist Adrian Tomine, the guy behind
Optic Nerve
, signing at the Drawn and Quarterly booth. He autographed my copy of
Shortcomings
. I think I might've suprised him when I took this picture.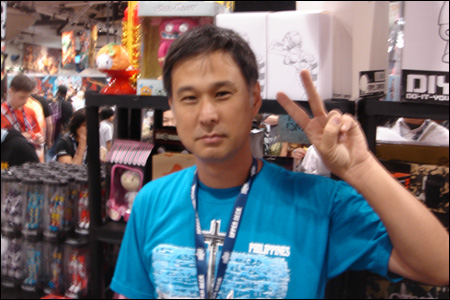 This Eric Nakamura of
Giant Robot
fame. He's a true Comic-Con veteran, having done it for like twelve years or something. I ran into him pretty early on, and he gave me some advice: make sure you eat some lunch at Comic-Con, or you might forget and you'll be a mess by the end of the day. Words of wisdom.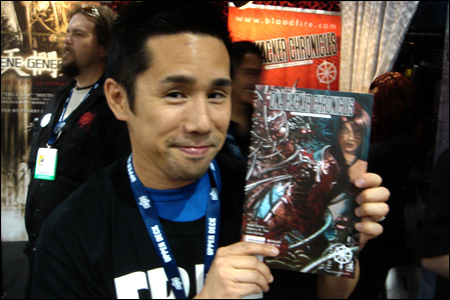 Hey, it's actor
Parry Shen
, helping to promote the indie sci-fi action movie he's in,
The Gene Generation
. He's holding the tie-in comic book,
The DNA Hacker Chronicles
. Parry was also scoping out talent among the convention's many comic artists to recruit for his Asian American superhero anthology,
Secret Identities
, due out in Spring 2009.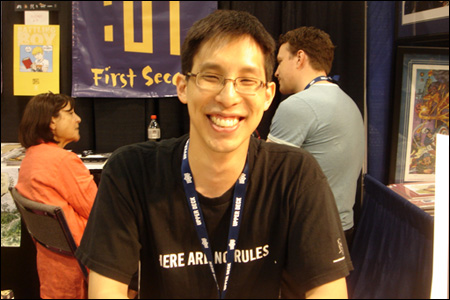 I finally got to meet Gene Luen Yang, author of one of my favorite books,
American Born Chinese
, who turned out to be a really cool guy. He told me for his next project, he's teaming up with Derek Kirk Kim, author of
Same Difference
—another one of my favorite books. I can't wait!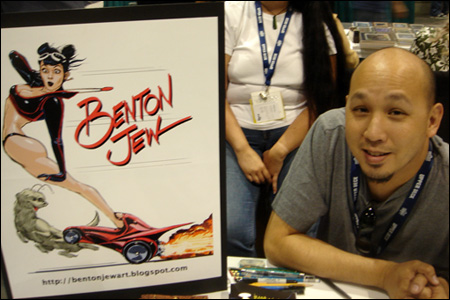 This is artist
Benton Jew
, who does comic books and movie storyboards, among other things. I actually wasn't very familiar with his work, but I'd come across his
blog
a couple of times. I came across his table when I was perusing the artists' aisle, and his sign caught my eye. Couldn't forget a name like that.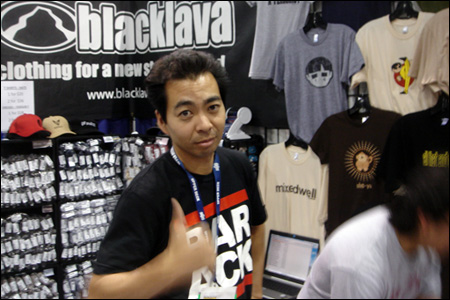 Ryan Suda was holding down the
Blacklava
booth, giving convention-goers some Asian American t-shirt pride. I'm diggin' the new
BARACK
design. He told a good number of folks actually picked up the
Nobody Loves an Angry Asian Man
shirt. Go Comic-Con.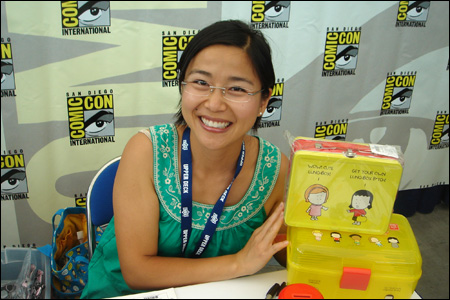 Here's cartoonist/actress Lela Lee, rockin' her
Angry Little Asian Girl
wares in the autograph room. Unlike Lou Ferrigno, she wasn't charging thirty bucks to take a photo of/with her. She's a really cool lady. Now I kind of regret not buying that lunchbox.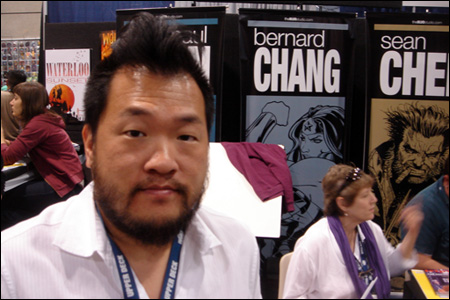 Got to meet comic book artist
Bernard Chang
, who is a fan and reader of this blog. We've corresponded over the years, and he's even sent me some of his work, so it was nice to finally meet in person. He hooked me up with a couple of issues of
Wonder Woman
, which he recently did the art for. Good stuff.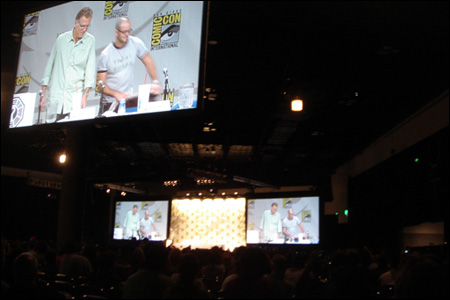 I managed to make it into the very popular
Lost
panel, along with about 6500 other conventioneers. This show has crazy fans. During the Q & A, the first question asked concerned the fates of Jin and Locke—will they be back? Without giving much away, producer Carlton Cuse said that Daniel Dae Kim would indeed be back next season. He didn't really elaborate, except to say that "Death is a relative term" on
Lost
. Indeed.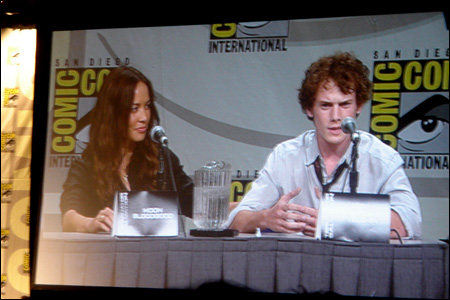 I also attended the
Terminator Salvation
panel, giving an early look at next summer's new
Terminator
movie. No, Arnold will not be back. But Christian Bale stars as John Connor, leader of the human resistance. Mainly, I wanted a glimpse of co-star Moon Bloodgood, who is just super-gorgeous. Unfortunately, from my seat waaaaaay in the back, this shot of the jumbotron was the best I could get.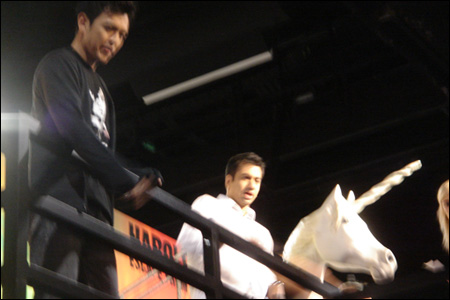 Back on the convention floor, John Cho and Kal Penn were hanging around to promote the DVD release of
Harold and Kumar Escape from Guantanamo Bay
. A camera crew was interviewing them up on this tower thing, and every time they turned around to look down, the crowd went crazy. Lots of random fools yelling "Kumaaaar!" And yes, that's a unicorn.
Finally, I came across this very cool special edition
Heroes
action figure of Future Hiro from season one, complete with Kensei sword and Masi Oka facial hair. A Comic-Con exclusive. I wanted to buy it, but it was pretty late in the convention, my wallet was getting thin, and I couldn't bring myself to drop $30 on an action figure. So I exercised some restraint. But now I'm looking for it online, and the damn thing is going for fifty bucks! Rookie mistake. Excuse me now as I recover from the madness.