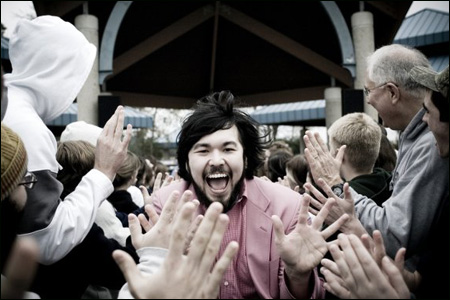 I recently got turned on to the music of Nashville-based singer/songwriter
Steve Lee
. So far, his claim to fame is an album of indie-pop kids songs,
What Did You Do Today, Stephen Scott Lee?
, and damn, it's great.
The album, which takes you through the day in the young life of kid Steve, is cool adventure of fun, catchy tunes. (I love "Grab A Balloon.") At times, it sounds a bit reminiscent of Wilco and Barenaked Ladies. He's a regular dude who happened to write a bunch of kids songs (to impress a girl, apparently). And it's good stuff. You can download it from iTunes or
Amazon.com
, or buy it directly from his
MySpace
.
His upcoming album is apparently titled
Greatest Animal Hits
, a continuation of the first record with a few adult-themed songs kicked in. He's actually got an autobiographical song about being Asian, entitled "Say Herro." Funny stuff. Can't wait to hear the rest. Here's an interview with Steve in
KoreAm Journal
from earlier this year:
Steve Lee - Strummin' tunes for the kid at heart
.