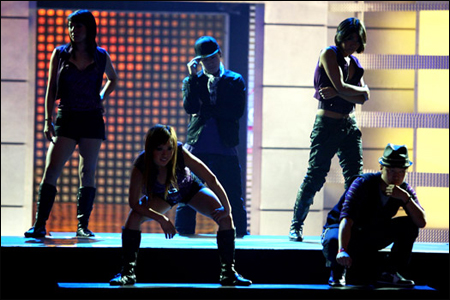 Determined to milk the
America's Best Dance Crew
phenomenon for all it's worth, MTV aired a post-season special today,
Battle For The VMAs
. I actually got to attend the show taping earlier this week. Without any "real" stakes on the line, it wasn't quite as exciting as a regular season show. But it was fun.
The show opened with a performance by the two season champions, JabbaWockeeZ and Super Cr3w, joining forces for a badass performance. Then, five crews from the past two seasons—Kaba Modern, Fanny Pak, SoReal Cru, BreakSk8 and Status Quo—competed for a chance to appear live on the MTV Video Music Awards.
Can I just say, it was awesome to see Kaba Modern in action again? They were easily my favorite crew from season one, and they've still got it.
In the end, three crews were chosen as finalists: Kaba Modern, SoReal Cru and Fanny Pak. Which is great, because I seriously can't stand Status Quo and BreakSk8. See ya, suckas.
From the remaining crews, the top two, determined by
online vote
will battle it out on the VMA red carpet pre-show. The winning crew will get to present at the VMA, with $25,000 going to their favorite charity. You can watch video clips and vote
here
.
UPDATE: I forgot to mention that the Philippine All Stars, fresh from their win at the
2008 World Hip-Hop Championship
earlier this month in Las Vegas, were in the house as special guests at the taping. After all was said and done, they were invited up onto the stage to perform live for the crowd. They were pretty awesome. View some shaky video footage of their performance
here
.