Here's the latest word from our trusted correspondents, JL and Spamfriedrice, blogging about what's been going down at the Democratic National Convention in Denver:
tuesday-wednesday roundup: the view from the nosebleed seats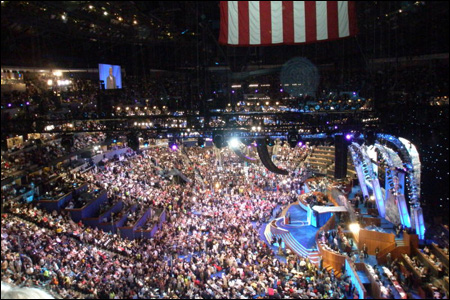 We are writing this entry in our nosebleed seats in the Pepsi Center on Wednesday. We have a great view of Hillary and Chelsea sitting below us and the CNN newscasters. Check out this scene from yesterday.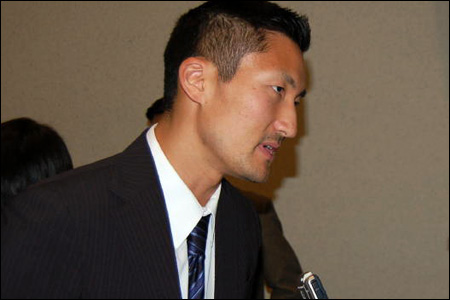 Yesterday, we got to chat with Yul Kwon, all-around good guy and another Asian American badass, who shared his views on his hopes for young Asian Americans in politics.
"To me this presidential race has been so amazingly exciting because we're seeing such amazing diversity among candidates. It's a watershed moment in American history: We had a strong female candidate, a strong African American candidate and a strong Latino candidate. What I'd love to see one day is a strong Asian American candidate. I think Barack Obama getting elected is a symbolic moment that I think will forever change the way people look at their possibilities, especially for Asian American youth. What I'd love to see is more young people getting involved in politics.

Our parents were first generation immigrants for the most part and came here just to assimilate, just to survive. But now many of us have opportunities that our parents never did. We should capitalize on these opportunities — and I would argue, responsibility — for us to try to become leaders in our own right... and not just think about our own individual careers but think about broadly serving our own community and helping other people. The hope is that one of the people reading this might be the first Asian American president of the United States."
Preach it, Yul.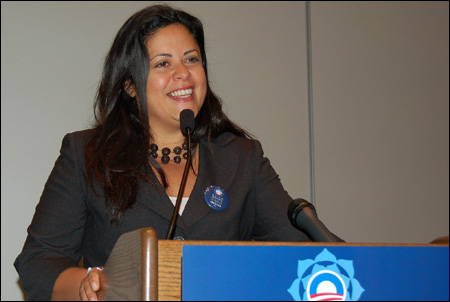 Asian Pacific Americans for Progress, Asian Americans for Obama and South Asians for Obama held an Asian American and Pacific Islander Grassroots Strategy Session on Tuesday and Maya Soetoro-Ng and Konrad Ng, Barack Obama's half-sister and brother-in-law stopped by to encourage AAPI to get involved. She talked about Obama's connection to the Asian American community.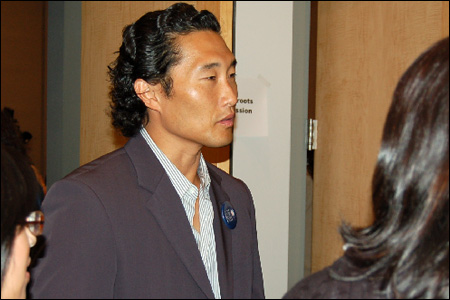 Also stopping by at the grassroots strategy session was none other than Daniel Dae Kim, who plays Jin on
Lost
. A white woman walked up to him and asked, "Where's Naveen?" (The actor who plays Sayid.) Uh, yeah lady, DDK walks around with his buddy in his pocket. Oh yeah, here's an AAM exclusive: Jin will be back next season! We don't know in what capacity but he'll be back. We told DDK we will be tuning in.
Anyway, Daniel had some cool words for us when we asked him why we should vote and get active in this election:
"You know, so many young Asian Americans are media saavy and within that demographic everyone talks about representation. This — getting involved in the political process — is representation at its most basic and literal level. And I think that when we try and serve the cause of Asian Americans we really need to get involved in this process, whether it's you yourself getting out to vote or being an advocate on behalf of a candidate to your family or your friends. I think it's just important to know what's going on in the country at a grassroots level and at a national level. And I think it's better to be the advocate for change than the beneficiary of change."
Wow, very cool.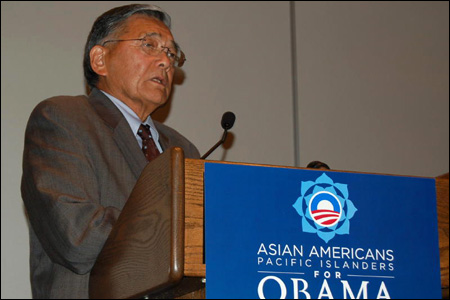 We also got to see Norman Mineta, former Secretary of Tranportation. Another OG Asian American in politics. Go Norm!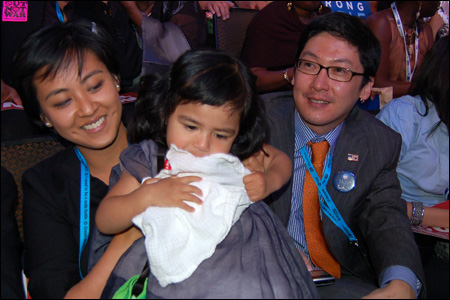 Tuesday night we got to hit up the floor and we ran into two Asian Americans who were New York Delegates — James Wu and Grace Yu. When we introduced ourselves, James said that he's an AAM reader. You rock James!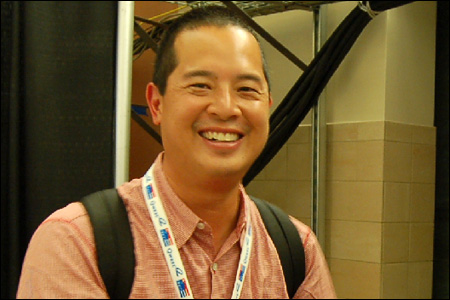 We also ran into
Jeff Chang
, author
Can't Stop, Won't Stop
, interviewing a Hillary fan for
Vibe
magazine. Wow! He's the guy who did the interview with Barack Obama for
Vibe
.
Did you catch California State Controller John Chiang or Congressman Mike Honda's DNC speeches on TV Tuesday night? They were one of the 60 or so speakers last night but were not on during prime time. Is that racist? We're not sure.
On Wednesday, Tammy Duckworth, Director for Veterans Affairs in Illinois, spoke at the DNCC and totally represented as a strong Asian American woman! We unintentionally ended up sitting near a bunch of young AAPIs and we all cheered loudly for Tammy when she repped as an AAPI.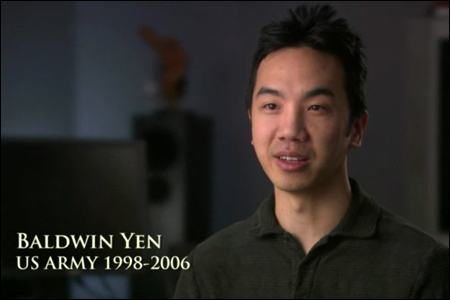 We also caught sight of an Asian dude, Baldwin Yen, prominently featured in a
video
about U.S. war veterans.
We've heard that there have been some sightings of Kelly Hu, Kal Penn, Margaret Cho and Tamilyn Tomita.
We gotta go. Bill Clinton is about to speak.