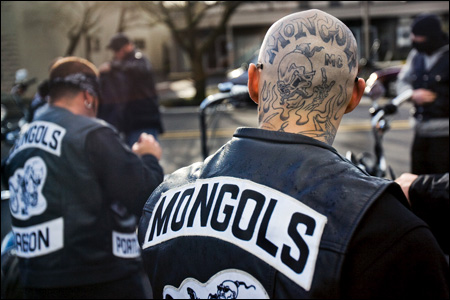 Thought this was kind of weird... Earlier this week, authorities arrested 61 members of the
Mongols biker gang
on federal racketeering charges. The crackdown was part of a multi-agency investigation involving more than a thousand federal agents and police in Southern California, Nevada, Oregon, Colorado, Washington and Ohio:
Raid targets Mongols motorcycle gang
.
In addition to racketeering, the Mongols are charged with committing violent crimes—including murder—drug trafficking, weapons offenses and money laundering. They used guns, knives, brass knuckles, lead pipes and steel-toed boots to impose their will, often on such rivals as the Hells Angels, but also on unsuspecting members of the public who happened to cross their paths.
The interesting part is that the U.S. Attorney is seeking to take control of the Mongols' name, which the gang has apparently trademarked, through a restraining order barring them from wearing it. Essentially, the move is meant to be a blow to the organization's identity, and thus, its criminal power.
Oddly enough, this bust actually has little to do with Asians... I mention it here mainly because of the organization's name. Dude, they're called the Mongols. And they rock a rather
racist
caricature ("a pony-tailed, Genghis Khan-like figure riding a chopper") as their logo. However, according to the story, the gang is mostly made up of Latinos. I just found that kind of interesting.