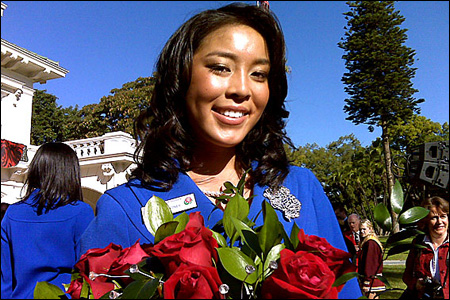 17-year-od Courtney Chou Lee has been named queen of the 2009 Tournament of Roses:
Arcadia teen is queen of 120th Rose Parade
. The Arcadia High School teen will reign over activities culminating in the historic, world-famous Rose Parade and Rose Bowl game on New Year's Day. Basically, it will be her duty to look pretty, ride the float, and wave.
Courtney was chosen queen from among seven Tournament of Roses princesses who were chosen last week. More than 1,100 young Pasadena-area women and teens applied for a spot on the Royal Court. But there can be only one Queen, suckas! More here:
Tournament of Roses names queen
.