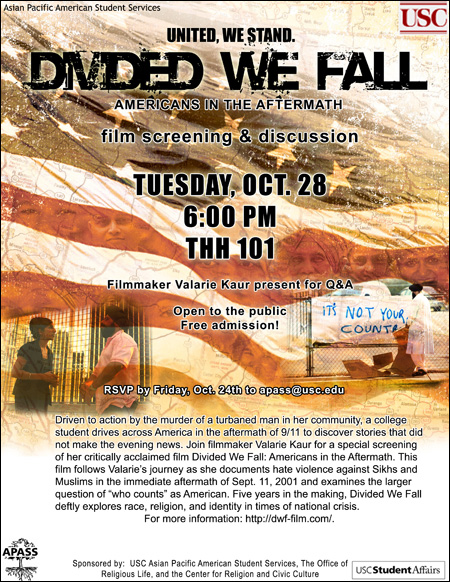 For those of you in Southern California, here's information about a special screening happening this week at the University of Southern California. My pal Sumi informs me that they'll be screening and discussing Valarie Kaur's
Divided We Fall: Americans in the Aftermath
this Tuesday, October 28, 6:00pm in Taper Hall 101 at USC.
The documentary follows Kaur's journey across America to tell the stories of hate violence against Sikhs and Muslims in the immediate aftermath of 9/11, confronting the forces unleashed in a time of national crisis and examining the larger question of "who counts" as American.
Valarie Kaur will be present for a Q&A after the screening. The event is free and open to the public. For more information about the screening, refer to the flyer above, or go
here
. For more information about the
Divided We Fall
, including upcoming screenings, visit the film's website
here
.