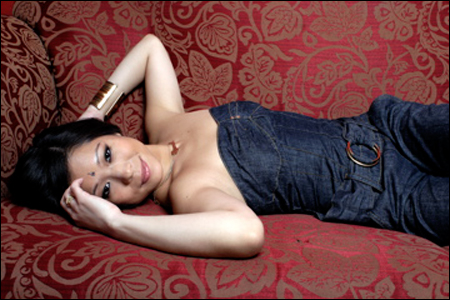 The photo above can mean only one thing... it's time for another
Angry Reader of the Week
, spotlighting you, the very special readers of this website. Over the years, I've been able to connect with a lot of cool folks, and this is a way of showing some appreciation and attention to the people who help make this blog what it is. This week's reader is New York-based R&B/soul singer
Heather Park
:
Who are you?
Publicly, I'm Heather Park. Legally, I'm Heather Ah Park, only begotten daughter of June & Ho Park. (Hi mom & dad!) Sadly, my parents kept my middle name Korean name (Hyun Ah Park), so the "Ah" is always a longer story to explain.
Where are you?
NYC, currently a Queens girl. A-town, baby!
What are you?
A Korean-American R&B/Soul songstress, aspiring Bikram yogini, and a seeker of the Great Perhaps.
What do you do?
Write stories about the experiences, love and life in the hopes that some seemingly insignificant human experiences are something that are shared.
What are you all about?
Sincerity. Transparency. Value. Integrity. Idealism. In music, life, love and self.
What makes you angry?
Stupidity, racism, injustice. All three kind of go hand in hand -- they're basically crimes against humanity. It baffles me how I can be in a room of highly intelligent, educated people who say the most racist things with no sense of self-awareness. My most favorite thing to do is to make people uncomfortable -- particularly about racist things. Whenever there's an ignorant utterance, don't let the chance pass you by to call it out. Make them squirm with discomfort. There's no growth without discomfort. ;)