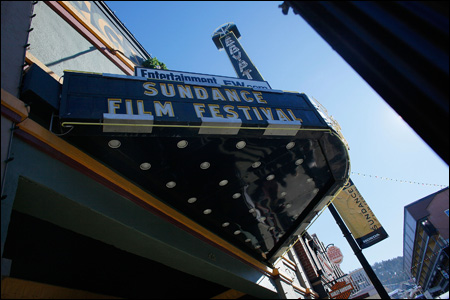 Yo. I have returned from a crazy whirlwind weekend trip to Park City, Utah for the 2009 Sundance Film Festival. It was quick, but I still managed to squeeze in some good times seeing films, meeting people and just generally experiencing the chaos and fun of the festival. Here's a little recap of my weekend...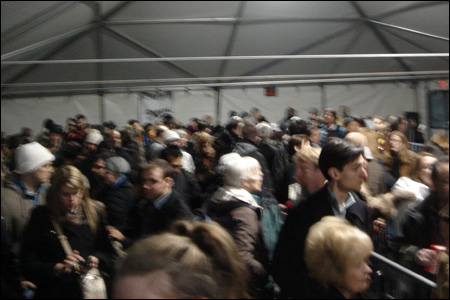 One thing you count on at Sundance: cold and crowds. This is the waitlist line for the sold-out world premiere screening of
Paper Heart
. The line snakes around like we're waiting to get into a theme park ride. And none of these people have tickets. These people are all waiting for the
chance
to get into the movie.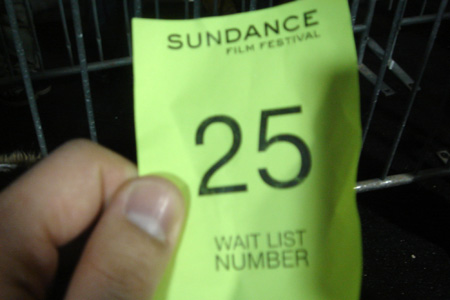 There was apparently a lot of buzz about
Paper Heart
, and it was completely sold out. Thankfully, I got in line fairly early. Lucky number 25.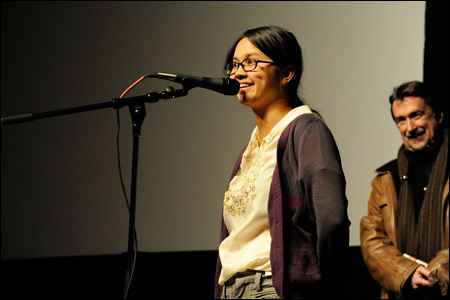 Here's Charlyne Yi, producer, writer and star of
Paper Heart
, introducing the movie before the screening. You may remember her as that funny-ass stoner girl from
Knocked Up
. In person, she actually seems just as goofy and lovable.
I don't know how to describe
Paper Heart
. It's this funny, quirky mockumentary following Charlyne, who apparently does not believe in love, as she searches and interviews real people around the country to find out the meaning of love, and dabbles in a relationship herself with a guy named Michael Cera.
It's cute and weird, and might just make a breakout star out of Charlyne, who is really awkward yet totally charming. This is definitely not your average romantic comedy protagonist. Here's a profile on her from indieWIRE:
Move Aside Michael Moore, Charlyne Yi Breaks Out in Comic Doc "Paper Heart.'"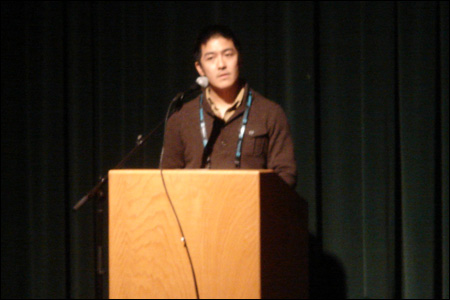 On Sunday afternoon, I attended the world premiere of
Children of Invention
, the only Asian American feature film at Sundance, and the one film I had put down as a priority to see while at the festival. Here's director Tze Chun, introducing the film.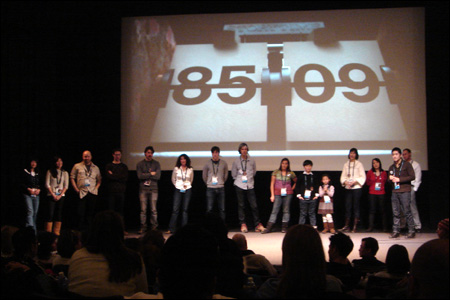 And here's the entire cast and crew
Children of Invention
, during the post-screning Q&A. I was really looking forward to seeing this film, and it didn't disappoint. Basically, it's about two kids who are left to fend for themselves after their single mother is apprehended for unknowingly taking part in a pyramid scheme scam. At its soul, it's about growing up, the immigrant experience, and shortcuts to the American dream.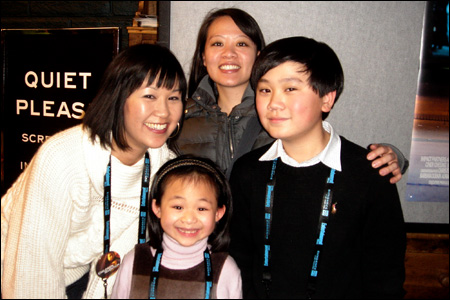 It's great. The film works in large part because of some really great performances--particularly from the kids, who do some serious heavy lifting for the movie. They're fantastic. Here's Cindy Cheung (who plays the mom), Crystal Chiu, Michael Chen and producer Mynette Louie in the back.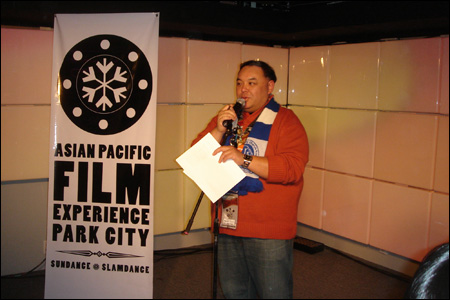 After the screening, I headed over the annual APA Filmmakers Reception over at the Queer Lounge on Main Street. This event, which has been going on for several years, is a way of recognizing the APA filmmakers with works in both the Sundance and Slamdance film festivals. Here's Winston Emano introducing all the filmmakers.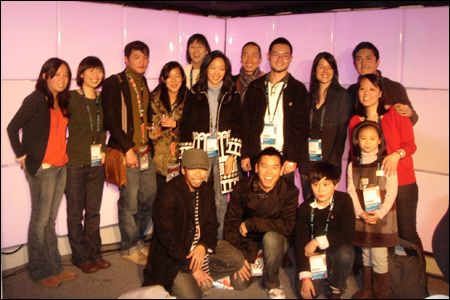 And here's a big yearbook-style photo of all the filmmakers.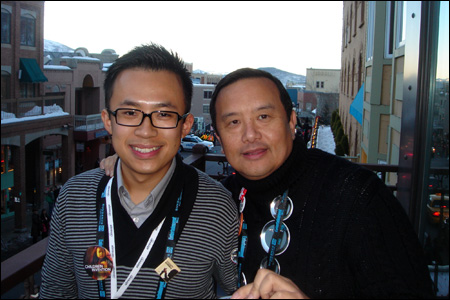 Meet Jack Song and David Magdael, super publicist dudes. They run things, and they know how to hook a brother up.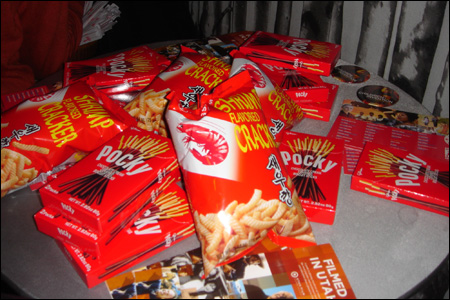 It was a good weekend. As quick as the trip was, I was happy to see us Asian American trying to make our slim mark on indie film's big show. I really don't know how to end this post, as I have pretty much run out of photos to share. So I'll leave it with this: Pocky and Shrimp Crackers. They also had Choco-Pie and spicy ramen bowl noodles. Essential to any Asian's survival in Park City. I'll be back for more next year, hopefully.