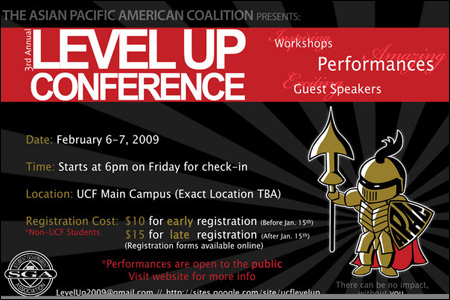 This is for all you students in Florida (and beyond)... Next week, the Asan Pacific American Coalition at the University of Central Florida presents the
Level Up Conference
, with the purpose of uniting diverse groups of people and offering an experience to explore and increase awareness of the current issues facing Asian Pacfic Americans and their communities. It's happening February 6-7 at the UCF Main Campus.
As with any good students conference, there will be workshops, speakers and entertainment on hand to challenge and engage participants. workshops will be led by recognized leaders from our community such as Quoc Van, the former US Congressional candidate for Florida, Dennis Ngin, UCF's first student government treasurer of Asian American descent, and Michael Freeman from the Office of Diversity Initiatives.
The conference's entertainment lineup will include popular standup comedian Eliot Chang, singer J.P. Perez, and hip hop dance group Fresh Off The Beat. Good times. It's all going down next week at the University of Central Florida. For more information, visit the conference website
here
. And register for the conference
here
.